Agricultural Reform Route Map – is the way forward any clearer?
Following on from the Scottish Government's Vision for Agriculture and the Proposals on the Agriculture Bill in February 2023, the Scottish Government published an initial Agricultural Reform Route Map in March 2023.
The Proposals, which were published in August 2022 and set out a four-tier framework for farm support in line with the Vision for Agriculture, were criticised by the industry for lack of detail and clarity.
On 22 June 2023, the second edition of the Agricultural Reform Route Map was published by the Scottish Government. 
The main changes are:
the maintenance of existing cross compliance requirements as a minimum on future support;

the introduction of new protections for Peatlands and Wetlands as a new condition on basic payments;

the foundations of a Whole Farm Plan, including soil testing, animal health and welfare declaration, carbon audits, biodiversity audits and supported business planning;

the introduction of new conditions to the Scottish Suckler Beef Support Scheme linked to calving intervals to encourage livestock keepers to reduce the emissions intensity of their cattle production systems.
The background
The original Route Map set out timescales for the forthcoming transitional period, aiming to help landowners plan and prepare for changes coming in 2025. 
Although the Route Map has been updated with details set out below, there are still elements of the measures and how applicants will be paid that need to be confirmed.
The future model aims to support farmers, crofters and land managers in achieving four main outcomes to deliver the Vision for Agriculture:
The primary food production sector is a productive and sustainable part of the economy which helps to ensure Scotland's people can live and work sustainably on our land.

The transition to Net Zero supports the rural economy and supports efforts to reduce rural poverty and inequality, targeting support to those who need it most.

Reduced Greenhouse Gas emissions from the agricultural sector.

A substantial regeneration of biodiversity, ecosystem and soil health.
Timetable
The Route Map has given a timetable for the phasing out of current support and phasing in of future support.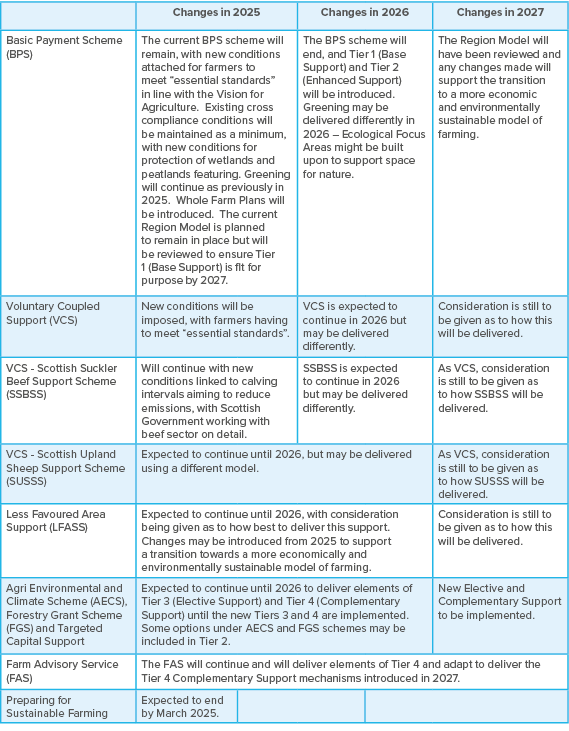 Payment conditions
Alongside the timetable, the Route Map has included some very general information on conditions relating to the payments under the Tiers which aim to deliver the four main outcomes in relation to the Vision for Agriculture.
Tier 1 - Essential standards for Base Payments
The Tier 1 payments will be conditional upon farmers meeting "essential standards" which are referred to in the Route Map as standards in "climate response; biodiversity gain; business efficiency outcomes; safeguarding animal health and welfare and worker rights."
In addition existing cross-compliance requirements will be maintained as a minimum in the new framework (and will be applied across all tiers but may be delivered differently) with additional conditions for protection of wetlands and peatland added. 
Greening requirements will continue in 2025 but may be delivered differently later. 
Whole Farm Plans will be introduced from 2025 as a tool to help integrate the food, climate and biodiversity outcomes, and will examine productivity baselines. 
The Scottish Government is working with the industry on this element to ensure the WFP will work and to support the industry in the transition.
Tier 2 – Enhanced Payments
Tier 2 payments are to build on Tier 1 payments, focusing on measures that will reduce greenhouse gas emissions, adapt to climate change, and protect, restore and improve nature, supporting producers and incentivising sustainable and regenerative farming.
The Scottish Government produced a publication in February 2023, called Guidance on the List of Measures, on the measures that are being proposed.
This aims to give some assistance for future planning, but the SG note they are not a final list of measures and only designed to be indicative. 
Farmers might well be wary of relying on them in relation to any major investment or significant changes to farming practices.
Tier 3 – Elective
This tier will support sustainable land management, focussing on funding targeted actions to reduce greenhouse gas emissions, adapt to climate change, and protect, restore and improve nature.
Tier 4 – Complementary
Funding in tiers 1-3 will be complemented with access to support and advice and training.
What comes next?
From a legal perspective, the Agriculture Bill has yet to come before Parliament, and any secondary legislation coming from the Act will still need to run through the legislative process.
However, in the updated Route Map, the Scottish Government has provided a timetable for further announcements which, all being well, should run concurrently with the journey of the legislation through Parliament.
We await the Scottish Government report on the Agricultural Bill Consultation report.
While the existing framework remains in place in 2023 and 2024, further detail is awaited on the changes being introduced in 2025.  From April 2024, the payment strategy for the transitional period of 2025-2027 will be announced.
Guidance for BPS, VCS and other schemes will also be announced in early summer 2024 with guidance on Complementary Support in 2025 following on later in summer and the budget for support towards the end of the year.
 In 2025 we expect to see details of the support for 2026, anticipated changes for 2027 and the budget for 2026 support. 
The Scottish Government is engaging with the industry meantime.
How can farmers plan for Agricultural Reform?
The Route Map does not give full details of the conditions that farmers will need to comply with come 2025, and payment levels and timings are yet to become known.
 At this point we know that support will be conditional upon farmers meeting "essential standards" - but we don't know what exactly those are, and as noted, the Guidance on the List of Measures relates to proposed measures so cannot be fully relied upon.
In the latest update, the SG states that future support is intended to support a long-term shift towards sustainable and regenerative agriculture, noting that regenerative agriculture recognises that every farm is different and for that reason there is no definitive list of methods of actions. 
Although the Route Map gives illustrations of how the measures will apply, it emphasises that these are "illustrative only and subject to change as more information becomes available" – one of several caveats in the publication.  
While we are looking at a three-year transitional period (at least), the way the various support elements are to be phased in means that farmers will have rather short notice of the conditions and payment details ahead of implementation.  The future of LFASS and VCS remains uncertain.
It appears that the Route Map has been produced as a stop gap and we are not much further forward.
As a result of all this, forward planning will still be extremely difficult for the sector.
Available support – Preparing for Sustainable Farming
The Preparing for Sustainable Farming (PSF) scheme allows farmers to claim costs for carbon audits (£500) and Soil Sampling (up to £600 per 100 hectares of Region 1 land).
There is a £250 Development Plan payment that can be claimed along with the first Soil Sampling Claim. The aim of these payments is to help businesses understand carbon emissions and sequestration, with a view to lowering emissions and increasing efficiencies and forward planning.
Support is also available with a grant of up to £1,250 for animal health and welfare measures, and also from AECS and FGS, Peatland Action, the Nature Restoration Fund, Farming for a Better Climate and Monitor Farm Scotland.  
MyHerdStats provides an online tool for managing and analysing cattle herd information electronically, and the Farm Advisory Service will continue to provide advice as it evolves along with the support system.
Although the available support appears to align with the Vision for Agriculture and Guidance on the List of Measures and may assist farms generally, until full detail is known about the conditions attaching to future support payments it will be difficult for farmers to make solid future plans in relation to these.
The PSF support is transitional and is expected to end by March 2025.  After that soil testing, animal health and welfare declarations and carbon audits will be part of the productivity baseline for a Whole Farm Plan.
Wider land management and charge plan
Agricultural reform forms part of a wider plan for change to agriculture and land management in Scotland, and the Scottish Government have produced a timetable for forthcoming change. We will provide more information as this becomes available.
Looking ahead
Whereas the Route Map does set out a timetable for the transitional phasing in of the future payment framework, further details are required for farmers on the conditions to apply to future payments, and the level and timing of such payments.
Time is running out for farmers to plan ahead and time is tight for introduction of the new framework.
The way forward is clearer, but only slightly.