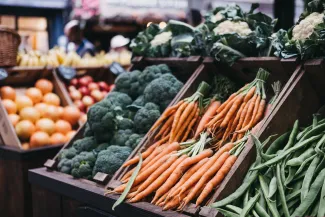 The food and drink sector is a key pillar of the UK economy. Food production has to be sustainable to be secure, be economic and minimise damage to the environment.
Sustainability increasingly needs to be a part of the industry's DNA. The goal of net zero by 2045 seems distant but in business planning terms, is relatively close. Sustainability needs to be built into the whole food supply chain and weaknesses need to be addressed.
What are the current challenges?
Primary production: a sustainable agriculture sector requires that farm-gate prices reflect the economic reality of the costs of production. If farming is not viable, it is not sustainable and increases reliance on imports at potentially higher costs. An adequate substitute for lost European Union farm subsidies is critical, as well as a wholesale review of agricultural policy in the UK. 
Energy costs: this sector is a heavy user of energy, in transport of primary goods, processing, packaging and distribution. Significant investment is needed to reduce emissions and find energy-efficient means of manufacture and distribution, even down to investment in Ultra Low Emission Zone compliant delivery vans.
Wasted food: a culture of waste not, want not needs to be encouraged. UK households are estimated to throw out about 20 per cent of their food unused. As well as cultural change, more accurate guidance on use and shelf lives is needed. 
Waste packaging: UK retailers were historically greater users of packaging than our continental rivals. The volume and type of packaging is still high but is reducing. This is not always well received – one large supermarket received significant customer pushback from substituting recyclable plastic pouches for meat for its former sealed plastic trays.
Natural resources: recent droughts in key food-producing countries highlight the imperative of tackling global warming and the need to conserve water needed for irrigation. It is even an issue in the UK where extremes of drought or flooding cause significant damage to crop yields. 
How will this be achieved?
The food and drink industry is taking steps to address these, and many other sustainability challenges, facing the sector. 
Environmental, social and governance (ESG) is now firmly on the agenda for all large companies, and their boards know that shareholders and consumers expect to see positive steps being taken. 
Large supermarket chains need to see evidence of ESG and sustainability from their suppliers and if they don't, they run the risk of delisting. 
Technology and innovation are key drivers here. Robotic seeders enable seeds to be planted in a less damaging way than with tractors, and with lower emissions. Drones can help monitor crop health over large areas and identify areas of drought. 
Vertical farming enables faster growth cycles and significantly greater yield per acre – "skyscraper fields" of salads, green vegetables and herbs are increasingly viable. 
Innovations in packaging to increase the "whole product" recyclability, such as substituting card for plastic, is now visible on our shelves. 
Additionally, smart labelling such as that devised by Scottish firm Insignia Technologies uses colour-changing pigmentation to respond to CO2 emissions within the package to indicate freshness. 
Scotland's world-class aquaculture sector is investing heavily to reduce its carbon footprint and recycle waste products. 
Scottish Sea Farms' new state-of-the-art freshwater facility near Oban is powered by a biomass energy system saving 683 tonnes of carbon annually compared with oil. 
The system also captures all fish waste for reprocessing into fertiliser for agricultural use, and across its group, the proportion of plant-based material within its fish feed is at an all-time high.
All these changes and investments require political realism; leadership; creativity and money. Of these, the last is perhaps the most challenging. 
I believe that the sector is facing these challenges and with continued concerted efforts these can be met for the benefit of all. 
First published in The Business, 22 June 2023.