Renewable energy projects are at the heart of what we do. Our multi-disciplinary team dedicated to renewable energy is immersed in this sector with over 20 years' experience of delivering cutting-edge advice to our onshore and offshore clients successfully, both in the UK and overseas. Our market-leading expertise comes from working closely with clients across all technology types and from our profound understanding of the regulatory framework.
Our in-depth knowledge helps us to support our clients by providing practical and commercially sound advice. Onshore, we advise developers, landowners, funders and joint ventures; offshore, our work includes demonstrator projects and rounds one, two and three plus STW. Though wind power is a particular strength due to the maturity of this market, we also have significant experience of other technologies, including hydro, biomass and energy from waste, wave and tidal and solar.
Many of our renewable energy lawyers are recognised as experts in their field by clients and legal directories, both in terms of practice area and industry sector, contributing regularly to working groups on bio-energy, consents and licensing, offshore wind and grid strategy in the UK.
Working closely and taking a proactive role with industry bodies and associations, including RenewableUK, Scottish Renewables and CBI Energy Group, means that we are at the forefront of regulatory policy and influencing change and have exceptional insight into the complexities of the environment in which renewable companies operate.
For more information on how our renewable energy lawyers can assist you please get in touch. 
---
"They have got a lot of knowledge in renewables. From a Scottish perspective, they are one of the leading energy law firms."
– Chambers, Renewables & Alternative Energy
"Extremely impressive, absolutely top-class!" – Chambers, Renewables & Alternative Energy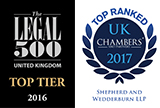 ---