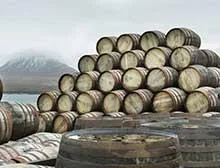 Trade tensions between the US and the EU appear to be intensifying, with Scotch whisky among the products that may be included in a new list of US tariffs.
Since the election of President Trump and the Boeing-Bombardier dispute in September 2017, tariffs have been a significant issue in international trade discussions. Now, US Trade Representative Robert Lighthizer has threatened tariffs of up to $4 billion on EU imports, although it is not yet clear when these will be imposed.
Scotch whisky is among a number of food and drink products from across the EU that will potentially be affected. The US is the world's largest export market for Scotch whisky by value – £1.04 billion in 2018. By volume, it is the second largest, with 137 million 70cl bottles exported last year.
Lighthizer said that the tariffs come "in response to harm caused by EU aircraft subsidies". The US claims Airbus benefits from EU subsidies to the detriment of Chicago-headquartered Boeing. In autumn 2017, the US Government responded to Boeing's concerns about subsidies with a 300% tariff on Bombardier's C-Series jet, after which Airbus received a majority stake for one dollar in an entity created by Bombardier to produce and market the C-Series jet and avoid tariffs by assembling the final parts in the US state of Alabama.
The threatened tariffs are a key part of the Trump Administration's trade agenda, which views some EU goods as overly subsidised and a threat to American products. Currently, the US and the UK manages its trade through the bi-lateral trading relationship in place between the US and the EU, but this is all subject to change post-Brexit, with the current UK Government seeking an extensive free trade agreement with the United States. While these tactics are apt to be viewed through the prism of the Trump Administration and its particular trade policy choices, it should be remembered that the disputes relating to aircraft subsidiaries have been ongoing for several years.
There is a risk to UK and EU jobs if these tariffs are imposed and the trade war escalates, although in the UK's case this may be avoided after it exits the EU. Much depends on the nature of future UK-EU trading arrangements, and the position in which this leaves the UK to strike deals with third countries such as the US.
Although it is possible that these whisky tariffs may never be implemented, they pose a real threat and are indicative of the challenges that UK businesses might face post-Brexit as the UK seeks to establish direct trading relationships around the world.
If you would like advice about trading arrangements between the UK and other countries or protecting your business during the Brexit process, please contact Paul Carlyle, Alison Rochester, or your usual Shepherd and Wedderburn contact.