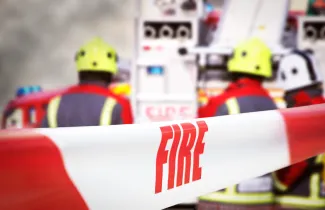 The facts
Benkert UK engaged Paint Dispensing to perform maintenance work on Benkert's ink dispensers twice a year. On one occasion, a clip connecting a hose to the ink and solvent drums came loose, allowing solvent vapour to leak. This led to a major fire in Benkert's factory, which caused £30m worth of damage. Benkert recovered their loss from their insurers, who then raised a subrogated action against Paint Dispensing.
Lord Tyre in the Outer House found in February 2022 that Paint Dispensing were liable for causing the fire through breach of contract. However, the court upheld Clause 5.3.1 of their contract with Benkert, which capped Paint Dispensing's liability to just over £3,225.06 – a mere fraction of the £30m Benkert had claimed. (See our earlier article - Limitation of liability clauses, printing company's £29m claim up in smoke. 
Appeal to the Inner House
Benkert's insurers appealed to the Inner House, arguing that Clause 5.3.1 was an unreasonable contract term under s.24(3) of the Unfair Contract Terms Act 1977. In support of this, they maintained that:
 a. The parties had an unequal bargaining position: Benkert was dependent on Paint Dispensing's expertise in     dispensers and could not properly assess the potential damage that could result from faulty servicing.
 b. Paint Dispensing had £5m of indemnity cover for public liability – their clause limiting liability to their annual     maintenance charge of £3,225.06 falls well short of the insurance cover they had in place.
The court rejected Benkert's arguments and upheld Clause 5.3.1 as a reasonable term. Benkert was a large, well-resourced company, which was able to negotiate on an equal footing with Paint Dispensing under reliable legal advice. Benkert was aware that a fire in the factory could cause substantial damage, as shown by the fact that they were fully covered for the £30m loss by insurance. Paint Dispensing had made Clause 5.3.1 prominent, short and easily readable – despite this, Benkert opted not to negotiate the clause. Importantly, the court held that Paint Dispensing's public liability cover was irrelevant to the reasonableness of their contracts.
The Inner House's reasoning followed the hands-off approach shown in the English case of Goodlife Foods v Hall Fire Protection [2018] EWCA Civ 1371. This approach highlights that the courts are reluctant to interfere in the bargains struck by commercial entities who are capable of looking after their own interests.
Impact on the construction sector
This judgment has significance for contracts agreed in the construction sector, especially consultant appointments, which frequently contain net contribution clauses, time limitations and monetary caps on liability. It is a reminder that entities in the construction sector should review and negotiate all contract terms of potential significance (even smaller-scale service contracts) before entering into the contract. If this is not done, the courts are unlikely to rescue a party from what may retrospectively appear as a bad bargain.
Key takeaways
Construction firms should take care to properly scrutinise and negotiate contract terms which limit liability. The consequences of not doing so could be very expensive.

Insurers may expect insured parties to be proactive in including or challenging limitation clauses.