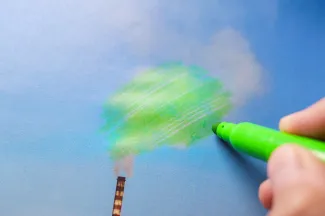 Introduction
The climate change crisis is transforming not just government, but business and consumer attitudes and behaviours. While sustainability goals for organisations have clear tangible benefits, for example, in reducing carbon, it is less clear whether consumers are willing to pay a premium for sustainable/ethical/green products and services.
There is no doubt that consumers care about climate change and the availability of environmentally sustainable products, but do they want to pay for them? While this is a recognised and complex problem, especially during a cost of living crisis, there is some evidence that consumers are shifting spending towards environmentally sustainable products. So, green products and services most likely make both economic and ethical sense.
Trust - from greenwashing to 'greenhushing'
There is, however, a trust problem. The Edelman Trust Barometer 2022 reports real global fear about climate change (77% of respondents), with 64% saying that business response is mediocre or worse at keeping climate commitments, and businesses being less trusted than government on climate. There is growing evidence that consumers distrust environmental claims made by businesses with recent studies establishing that a majority of consumers believe that businesses do not do enough to verify their green claims.
Consumers are not wrong in being sceptical. The UK Competition and Markets Authority ("CMA") found that globally 40% of online green claims could be misleading.  This scepticism is one reason for the phenomenon of 'greenhushing' where organisations decide to stay quiet or downplay their climate commitments precisely because they are concerned that the environmental claims they make may be classed as greenwashing and attract negative attention.
At the heart of these complex issues is trust.
The UK and other jurisdictions globally have acted, not only to encourage sustainability generally, but to ensure that regulatory and enforcement approaches build consumer trust and confidence through Codes, Guidance and increased fines for breaches of consumer law.
UK response – building trust
The UK regulatory response has been focused on controlling greenwashing and on promoting best practices for businesses as they work through how to ensure their green claims and credentials are robust and can be trusted by consumers. At present enforcement of consumer protection legislation is shared amongst different bodies, including the CMA, Trading Standards Services, and Ofgem. Enforcement has been inconsistent on a national basis. This will change significantly when the Government's Digital Markets, Competition and Consumer Bill (published April 2023) ("Digital Markets Bill") becomes law and grants extensive new enforcement powers to the CMA. For further information on the Bill, view our recent article here.
Enforcement of consumer law
The CMA is a cross-economy enforcer and works with other consumer enforcers to avoid duplication/ maximise consumer impact, for example, Trading Standards and Ofgem.
The CMA mainly enforces consumer law through civil enforcement. This includes agreeing undertakings with traders and seeking enforcement (prohibition) orders from the courts. 'Enhanced consumer measures' are available - in an undertaking or enforcement order or as part of a criminal prosecution. These allow provision to be made for: redress/compensation; compliance; choice measures (enabling consumers to choose more effectively between suppliers).
Certain consumer law breaches are criminal offences, for example, where there has been a breach of the prohibition on unfair practices. Criminal cases are generally only pursued where civil enforcement would be unlikely to achieve a change in behaviour and/or where the breach is sufficiently serious (see CMA Enforcement Protection Consumer Guidance chapter 5).
Consumers and the CMA  
The CMA will have direct enforcement powers for investigating and enforcing potential breaches of consumer protection law when the Digital Markets Bill is implemented. This includes a general power for the CMA to investigate suspected infringements and issue provisional and final infringement notices. Final infringement notices can attract monetary penalties of up to £300,000 or 10% of global turnover (if higher), and a range of other monetary penalties will be available for various breaches of CMA enforcement action. In addition, the CMA will be able to issue 'online interface notices', requiring the removal or modification of online content, disabling or restricting access to online sites, and displaying warnings or deleting domain names.
In relation to environmental/green claims, the CMA published the Green Claims Code in 2021 ("the Code"). It explains how businesses can comply with their legal obligations under consumer law when making green or environmental claims. The Code has 6 principles. Claims made by businesses: -
Must be truthful and accurate,

Must be clear and unambiguous,

Must not omit relevant information,

Comparisons must be fair and meaningful,

Must consider the whole life cycle of a product,

Must be substantiated.
The Code has been designed to reflect existing consumer law prohibiting unfair, misleading and aggressive practices, and applying the principles is likely to ensure businesses are acting within the law.
Advertising/ marketing of environmental claims
The Advertising Standards Authority ("ASA") is the regulator for advertising in the UK, both in broadcast and non-broadcast media. The ASA adopts the principles and approach of the Code in its guidance, and in assessing marketing materials.
The ASA does not have power to issue fines. In serious cases it can open a formal investigation and, generally, marketers comply with ASA decisions. It publishes a list of marketers who have not complied with ASA decisions and can take some steps, for example, to place paid search advertisements with search engines to flag non-compliance. While most marketers work with the ASA, in cases of continued non-compliance the ASA can, and does, refer cases to other enforcement bodies, usually Trading Standards who have civil enforcement powers and the ability to seek criminal penalties. Once the Digital Markets Bill becomes law, the ASA could flex its enforcement approach by referring cases to the CMA for enforcement under the CMA's new and enhanced powers.
Trading Standards
Trading Standards Services ("TSS") is one of the main enforcers of consumer law across the UK. The CMA works closely with TSS and shares powers with them. TSS are accountable to local authorities and work to national priorities set by government. TSS enforce a very wide range of consumer-related legislation on their own (animal welfare, food safety, alcohol, knives and fireworks).
In 2021, the Trading Standards Institute launched the Squash the Greenwash infographic explaining how consumers can recognise greenwashing, and how businesses can ensure they don't make claims that cannot be sustained or otherwise breach consumer law. This is consistent with the CMA Code. Enforcement follows the same approach as the CMA, with criminal cases only taken where a breach is sufficiently serious and/or behavioural change would be unlikely to result from civil enforcement alone.
Shareholder response - activism
There has been an increasing trend of climate-related litigation against companies, both internationally and in the UK. The London School of Economics has reported a doubling of climate-related claims and litigation in the past seven years, with over 2,000 cases having been raised.
In the UK, a key focus is on activist shareholder 'derivative claims' based on a breach of directors' statutory duties under the Companies Act 2006 (s.171, 172). These claims are not easy and require the permission of the court to proceed to a full hearing on the merits. For example, in 2021 a derivative claim was raised by two university lectures against the directors of their pension fund, the University Superannuation Scheme Limited. The action included claims that the directors of the fund had failed in their duties to the company by investing in fossil fuels. Permission to bring the derivative action was refused in May 2022, but this was then successfully appealed. A hearing is scheduled on the appeal against refusal of permission in June 2023.
More recently, in February 2023, ClientEarth issued proceedings against the directors of Shell in the English High Court. ClientEarth's press release explains that its action "alleges Shell's 11 directors have breached their legal duties under the Companies Act by failing to adopt and implement an energy transition strategy that aligns with the Paris Agreement." ClientEarth has received significant institutional support from some investors, collectively holding more than 12 million shares in Shell. These include UK pension funds, Nest and London CIV. Nest's CIO stated that it hoped "the case can be a springboard for Shell introducing key changes", with CIV taking the view that it "did not believe the Board has adopted a reasonable or effective strategy to manage the risks associated with climate change affecting Shell". ClientEarth was refused permission to proceed by the High Court on 15 May 2022; a hearing on that refusal has been granted and is still to be heard.
Even though shareholder claims present significant legal problems in the UK, climate shareholding activists have had success in other jurisdictions. In 2018, ClientEarth launched a shareholder claim against Enea, who proposed building a new coal-fired power plant in Poland. The Regional Polish court found ClientEarth's claims justified, and Enea's appeal was unsuccessful. Ultimately in 2020 construction was suspended.
It is certain that climate-related litigation and claims will continue to be pursued by activist shareholders and other litigants. It is especially notable that ClientEarth secured significant institutional shareholder support from pension funds and asset managers for its claim against Shell, without doubt adding to the substance of the claim. The possibility of shareholder claims (and other activism) is a real risk to corporates, which in itself is almost certain to drive change. For that reason alone, there is little doubt that litigation pressure and activity will continue to build in the UK and beyond.