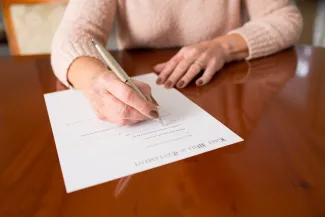 Background
The will
In 2016, Alexander Niven ("Mr Niven") made a will appointing his wife and his solicitor Grant Johnston ("Mr Johnston") as his executors and trustees. At the time, Mr Niven owned a half share in the matrimonial home, with his wife Irene Niven ("Mrs Niven") owning the other half share.
The will provided that if Mr Niven died before Mrs Niven, the trustees were to hold his interest in the property for her in liferent. Put simply, a liferent allows the liferenter the right to receive for life (or some specified period) the benefits of a property or other asset, but without obtaining ownership of that property or asset and therefore with no ability to dispose of that property or asset.
On Mrs Niven's death or discharge of the liferent, then Mr Niven's interest was to be shared equally between his two children from a previous partner – David Niven and Carole Melaisi.
The codicil
A codicil is a supplementary document which is normally prepared to accompany a will. Typically, this is created when someone wishes to make an amendment to a particular element in their will, rather than preparing an entirely new will.
In this case, Mr Niven died in April 2020 but it was not until October 2021, during a telephone call between Mrs Niven and her late husband's solicitor, Mr Johnston, that she informed him about a document she had allegedly found entitled "Codicil/Letter of Wishes to my Will".
The codicil revoked earlier testamentary writings by Mr Niven regarding the matrimonial home and therefore sought to override what had previously been provided for in his 2016 will. Instead of Mr Niven's half share being held in liferent for Mrs Niven, the codicil provided that his half share was to go to Mrs Niven.
That way, Mrs Niven would become the sole owner of the matrimonial home when Mr Niven died – with each of his children losing out on their 25% share. However, when Mrs Niven died after him, the house was then to be split as follows: 50% to Mrs Niven's son (also from a previous partner) and 25% to each of Mr Niven's children. The codicil had a mirror provision for the eventuality that Mrs Niven died before Mr Niven.
The codicil had allegedly been signed by Mr Niven on 22 January 2020 and witnessed by Carly March, who was formerly a cleaner for Mr and Mrs Niven. Given the mirror provisions, Mrs Niven had also signed the codicil.  
Court action
Following the revelation about the codicil in October 2021, Mr Johnston resigned his position as Executor. Mrs Niven, relying on the terms of the codicil which said Mr Niven's share was to transfer to her, executed and registered a disposition conveying Mr Niven's share to herself as an individual, thus becoming the sole owner of the house.
Mr Niven's children were then each deprived of owning 25% of the house, as had been provided for in the will, and they could not be certain that Mrs Niven would not then simply bequeath the entire house to her own son, or otherwise, down the line – thereby disinheriting them entirely from their father's half share.
Mr Niven's children raised an action in the Court of Session seeking reduction of (1) the codicil and (2) the disposition.
Parties who raise a court action are known as "the Pursuers". In this case, the Pursuers alleged that the codicil was a forgery, claiming that:
Mr Niven's signature was forged.

The document contained a number of simple and obvious errors which Mr Niven, "a meticulous and careful man", would not have made. 

Mr Niven would normally have taken advice from his solicitor in relation to important legal matters, including a change to his will, but he had not in relation to the codicil.

Only Mrs Niven and her son benefitted from the proposed change to the will, whereas the Pursuers lost out.
Judgment
Evidence was led in court over several days by 10 witnesses. This included two expert witnesses who produced handwriting reports.
In his judgment, the Judge Lord Malcolm explained that "the burden of proof on those alleging the forgery is a heavy one" and that "while the civil standard of proof on a balance of probabilities applies, cogent and sufficiently powerful evidence will be required to satisfy the court that the forgery case has been established".
Ultimately, Lord Malcolm opined that the Pursuers in this case had discharged that burden - accepting the evidence that had been led by the Pursuers' witnesses as credible and reliable. In relation to the Pursuer's handwriting expert, Lord Malcolm stated that she had provided "clear, cogent and convincing" reasoning in support of her conclusion that it was probable that Mrs Niven had forged Mr Niven's signature.
On the other hand, evidence from Mrs Niven and her witnesses was not accepted as credible or reliable – including that of Carly March, who had previously been convicted of fraud. Questions were also raised as to why Mrs Niven had waited over a year and a half after Mr Niven's death to raise the existence of the alleged codicil.
Lord Malcolm therefore granted decree of reduction in respect of the relevant part of the codicil and the subsequent disposition (meaning they were annulled and have no legal effect); as well as granting interdict against Mrs Niven or anyone on her behalf, preventing them from transferring or dealing with Mr Niven's share in the property.
Comment
This case reiterates the high burden of proof in forged document cases, which can end in difficult, costly, and long running court proceedings. It highlights the importance of credible and reliable witness evidence in such cases, from both witnesses to fact and expert witnesses.
Those seeking to challenge testamentary writings (or other documents for that matter) should act quickly to instruct a solicitor. Similarly, when seeking to prepare a will or codicil, clients should act quickly to instruct a solicitor to assist and advise them.
Sadly, when "DIY" documents are prepared there is a risk that they could lack formal validity, may not operate as intended, and could be successfully challenged after death. It may mean that wishes are not carried through and that previous testamentary documents (if any) could still stand. All of this can lead to unintended consequences and disputes.   
How can we help?
Our expert cross-departmental Contentious Executries, Trusts and Tax team draws on the expertise of contentious and non-contentious specialists from across our firm and has a wealth of experience in this field.
We regularly advise clients in relation to challenging wills on various grounds including forgery, fraud, undue influence, incapacity, and facility and circumvention. We also advise on alternative remedies that might assist in these situations, as well as alternative methods of dispute resolution such as mediation.
For a practical guide that sets out the main grounds of challenging or contesting a will in the UK, see our previous article here.
For enquiries in relation to challenging testamentary documents such as wills or codicils, or any other contentious executries, trusts, or tax issues, please contact Thomas McFarlane, Senior Associate in our Dispute Resolution and Litigation team.
We also regularly advise clients in relation to the preparation of testamentary documents such as wills and codicils. For non-contentious enquiries, including in relation to preparing a will or creating a trust, please contact a member of our Private Wealth and Tax team.
This article was co-written by Lynsey White, Trainee Solicitor in our commercial disputes team.