---
Shepherd and Wedderburn scoops Corporate and Commercial Team of the Year Award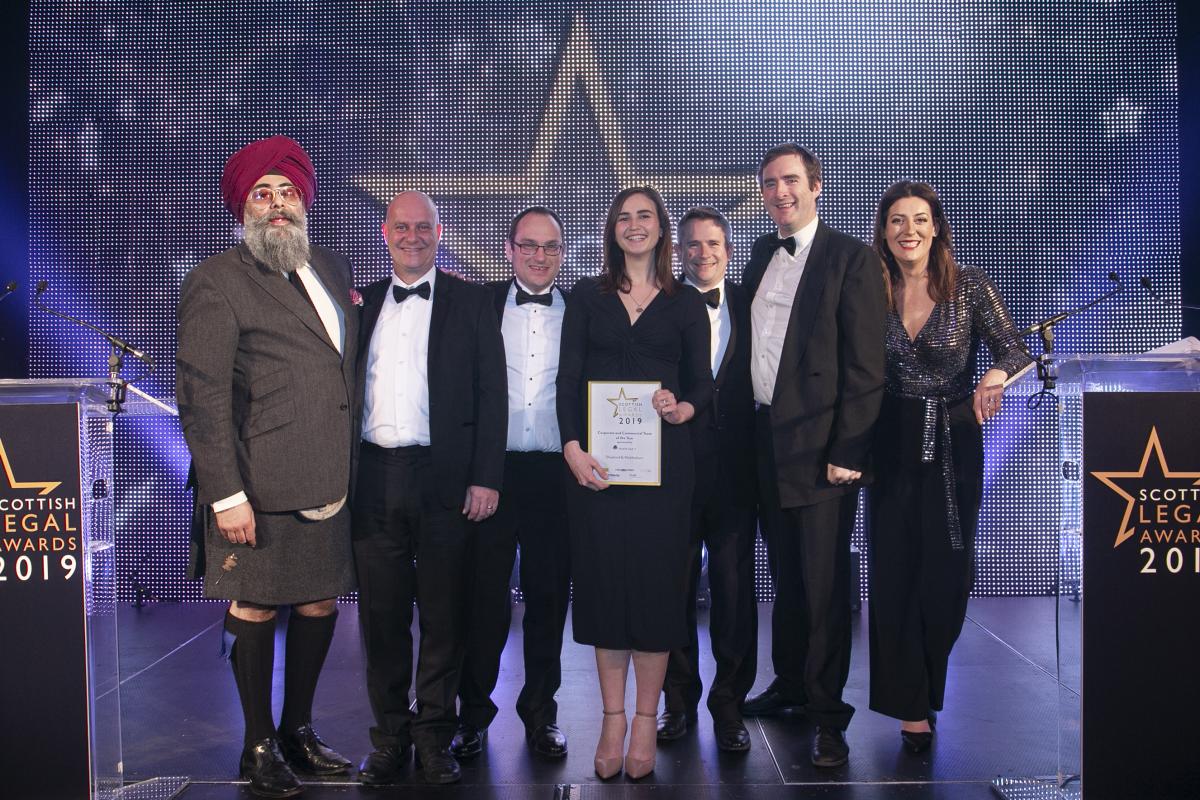 Shepherd and Wedderburn's corporate finance team was last night named Corporate and Commercial Team of the Year at the prestigious Scottish Legal Awards.
The awards, which are now in their 16th year, celebrate the achievements of the best performing individuals, teams and firms in the Scottish legal sector.
Led by Partner Stephen Trombala, Shepherd and Wedderburn's corporate finance team recently reported a bumper year for deals activity, with the value of transactions more than doubling to £8.65 billion.
The team advised on 114 deals globally in the year to December 2018, up from 98 deals in 2017, boosted by a number of notable technology-led transactions, including advising Scotland's first tech unicorn FanDuel on its sale to Paddy Power Betfair. The firm also advised on financial technology (fintech) deals with an aggregate value in excess of £650 million.
Presenting the award to the corporate team at the awards ceremony in Glasgow, the judging panel said: "Our winner impressed the judges with the range of high profile, Scottish-based deals as well as evidence of forging successful links with major players in the City and outwith the UK.  They evidenced a strong experienced team, many of whom have 'trained and remained' and are well led by management with a depth of expertise. Our judging panel noted they had a record year and applauded their results in a highly competitive field."
Commenting on the win, Stephen Trombala said: "It's a great honour that the hard work and commitment of the team and the success our clients have enjoyed has been recognised by our professional peers. In particular, it is a tremendous validation of our team's distinct approach and of the investment we have made to enhance the tailored service we provide to our clients.
"The Scottish Legal Awards are a highlight of the legal calendar. They are a tremendous opportunity to recognise the achievements of individual lawyers, their teams and firms on behalf of their clients and the achievements of Scotland's vibrant legal sector as a whole."
The Scottish Legal Awards judging panel is an independently appointed panel of legal industry experts who bring together experience and market knowledge from across Scotland. It includes Gordon Jackson QC, Dean of the Faculty of Advocates; Christine McLintock, Past President of The Law Society of Scotland; Graeme McWilliams, Legal Counsel, Standard Life Assurance Legal; Neil Taylor, Director of the Office of the Advocate General & Solicitor to the Advocate General; and is chaired by Shonaig Macpherson,  who is a member of the Joint Management Board of the Scotland Office and the Office of the Advocate General.
Commenting on last night's event, Shonaig Macpherson said: "The Scottish legal system is one of the best in the world. We have outstanding lawyers, innovative businesses and very many successful firms. The Scottish Legal Awards serve as an annual reminder of the achievements of the year for all of the finalists. We are delighted to be highlighting the excellence that occurs every day. I extend my congratulations to all the finalists and winners and encourage them to take time to celebrate their achievements."