---
Shepherd and Wedderburn launches Smarter Working innovation unit
Shepherd and Wedderburn LLP has launched a Smarter Working innovation unit to further enhance its service to clients.
The Smarter Working unit, believed to be the first of its kind for a Scottish-headquartered law firm, pools the firm's established expertise in the fields of process, automation, technology, data and knowledge to improve efficiency and provide insights that deliver genuine benefit to clients.
Led by Lynn Beaumont, Head of Knowledge and Service Delivery, and Steve Dalgleish, Head of Technology, the team is already working with the firm's legal specialists and clients to identify areas for improvement in service delivery, address the business-critical issues clients face, explore new ways of working, and assist them in achieving their commercial objectives.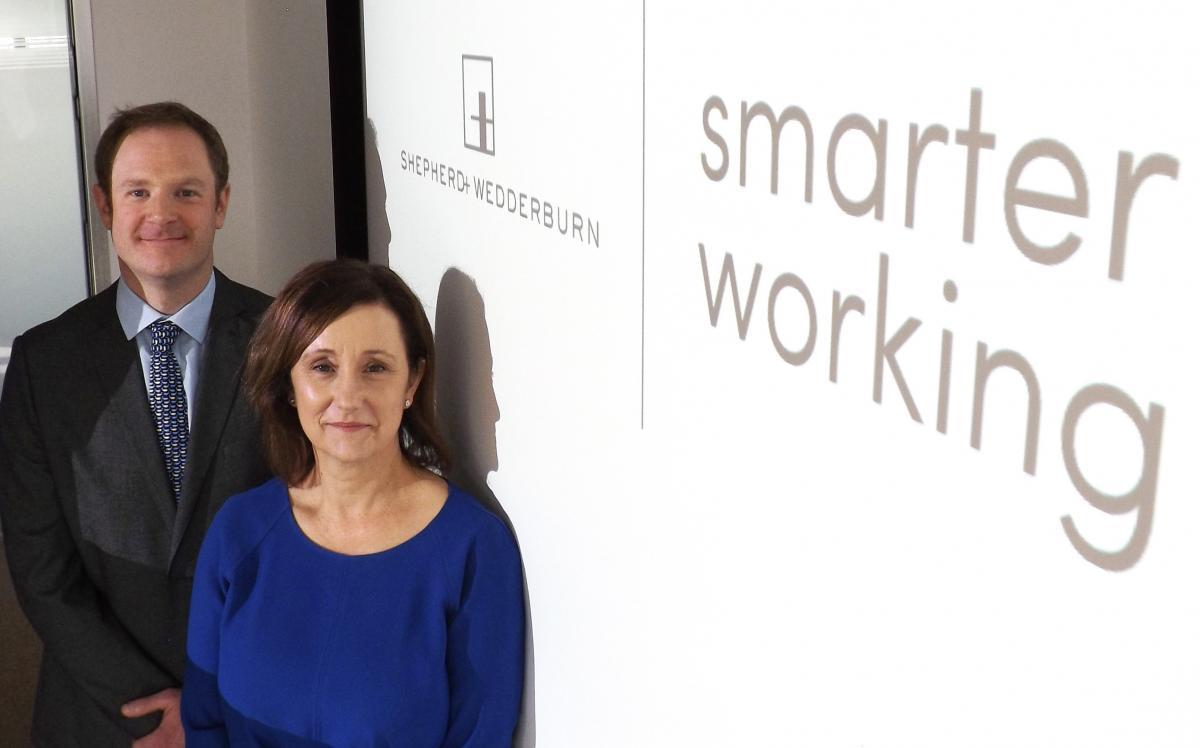 The unit's initial key areas of focus are:
• Process analysis – analysing work processes and identifying opportunities for improvement
• Workflow automation – providing certainty in process structure and delivery
• Document automation – ensuring the standard and quality of document generation
• Portfolio management – sharing content, including financial data, with clients using IT platforms
• Data insights – analysing client data to provide insights to them and help predict future trends
• Compliance tools – helping clients meet their compliance and regulatory obligations and support risk management
• Client contract management – analysing client contract data and using a range of tools to provide insights and manage risk
Recent work for clients has included:
• building an online reporting tool that allowed EE, which is undertaking the largest mobile cell site rollout in the UK in more than a decade, to monitor in real time its progress (legal, planning and technical) in erecting telecoms masts at more than 500 individual sites, delivering significant cost and time savings;
• a process improvement project for property work streams in collaboration with an energy client;
• developing a bespoke case management platform for one of the UK's leading banks to assist with account migration;
• creating an automated system to generate consistent high-quality investment documentation required for series A or seed investment for start-up companies, which has significantly reduced drafting times and improved service levels; and
• using artificial intelligence (machine learning) software to identify and extract key data from bulk real estate documentation in the acquisition by an investment client of a large portfolio of multi-let properties, allowing the firm's lawyers to focus their time on the legal issues and reducing review times by 50%.
Andrew Blain, Shepherd and Wedderburn's Managing Partner, said: "We have brought together the right blend of process, technology, knowledge and people to deliver tools to improve client service, transparency and efficiency. Smarter Working puts us in the best position to respond to the evolving needs of clients, who rightly expect technology and commercial insights to be an integral part of a modern, innovative law firm. 
"The unit will help us better understand, manage and address client's requirements, increase the rate of internal process improvement and the adoption of new technology, and embed our rigorous approach to project management. Embracing new technology is essential, though it should be seen as an enabler of high quality service delivery rather than an end in itself, and is of most value when combined with process, people and knowledge." 
Shepherd and Wedderburn is known for its market-leading expertise in the technology sector, both in supporting the scale-up and growth of technology companies, most notably Scotland's first tech unicorn, and in developing tech solutions for clients, be that harnessing AI to deliver insights, driving efficiencies through document automation or developing bespoke applications to help clients achieve their business objectives.