---
Shepherd and Wedderburn Partner contributes to new Scottish charity law guide
Shepherd and Wedderburn Partner and Head of the firm's Charities Group, Malcolm Rust has joined other leading charity lawyers to produce a new authoritative legal text: A Practical Guide to Charity Law in Scotland, published by W Green.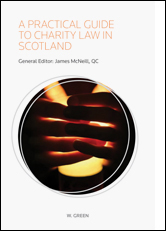 Timely in its publication following the 10th anniversary of the Office of the Scottish Charity Regulator's assumption of powers, A Practical Guide to Charity Law in Scotland finally addresses a gap in the market for a comprehensive and practical manual to Scottish charity law, which is accessible to all.
Led by General Editor James McNeill QC, the team of expert authors deal with, among other topics, the establishment, running and dissolution of charities. Illustrated with many case studies and drawing on relevant case law and practical examples, this guide is an essential resource for anyone managing a charity, and for those solicitors providing advice to charity trustees.
Malcolm Rust, an accredited specialist by the Law Society of Scotland in the field of Charity Law, who regularly advises Shepherd and Wedderburn's charity clients on regulatory and economic challenges, contributes a chapter on charity trustees. Drawing on his experience acting as a charity trustee on several Boards, he addresses issues including the appointment and removal of trustees, their duties under the 2005 Act, personal liability, indemnity insurance and changes to the structure or constitution of a charity.
A Practical Guide to Charity Law in Scotland is available from Sweet & Maxwell and a full product description can be found on the publisher's website.