---
New book provides ultimate answer to all questions about the law of financial collateral
Shepherd and Wedderburn Banking and Finance Partner, Dr Hamish Patrick has joined other eminent finance lawyers to produce a new authoritative legal text: Yeowart and Parsons on the Law of Financial Collateral.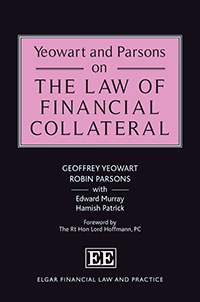 Designed as an essential reference point for all legal practitioners operating in financial markets, the title is the first to offer a systematic examination of the law in its entirety as it relates to financial collateral.
The publication's distinguished writing team is led by principal authors: Geoffrey Yeowart, Hogan Lovells; and Robin Parsons, Sidley Austin; with contributors, Edward Murray of Allen & Overy;  and Hamish Patrick of Shepherd and Wedderburn and with a foreword from former Law Lord and Financial Markets Law Committee chairman Lord Hoffmann.
In his review of the work, Philip R. Wood, CBE, QC (Hon), Special Global Counsel, Allen & Overy, stated:
'Written by exceptionally experienced practitioners in the field of finance, this enormously expert work is the ultimate answer to all questions anybody could ask about the law of financial collateral in England and Scotland, a stupendous achievement.'
Financial collateral consists of cash (including deposits), bonds, shares and other financial instruments and bank loans and other credit claims.  It has become a crucial tool for enabling market participants and central counterparties to manage credit risk.
According to lead authors, Geoffrey Yeowart and Robert Parsons, "The use of financial collateral is set to grow exponentially as the European Markets Infrastructure Regulation is implemented. Both centrally cleared and non-centrally cleared transactions will need to be supported by collateral. And because the law of financial collateral, particularly in cross-border transactions, is relatively new, deriving in Europe from the European Financial Collateral Directive implemented in the UK by the Financial Collateral Arrangements (No 2) Regulations 2003, considerable uncertainty remains on fundamental questions arising on the implementation of those measures in the UK. We have attempted to address some of that uncertainty in our book."
The Law of Financial Collateral is available from Edward Elgar Publishing, and extracts of the book, full table of contents and key features can be found on their blog. 
A 35% discount on the purchase price of the book is availble to friends and contacts of Shepherd and Wedderburn: simply go to www.e-elgar.com and enter the discount code -  HGLV35 when ordering.