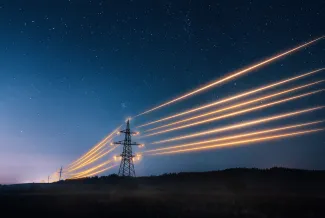 What is CMP 376?
Waiting times for connection to the electricity transmission system for generation projects are well publicised. Huge volumes of generation capacity are waiting in the transmission queue and projects have been offered connection dates of 2030 and beyond. This is partly due to the rise in applications for connection but is also the result of a "first come, first served" system which can lead to stalled (or "zombie") projects delaying connection timescales for other applicants.
The energy regulator for Great Britain, Ofgem, launched a policy review into electricity connections in May 2023. Several initiatives are already underway as part of the National Grid Electricity System Operator's (NGESO) five-point plan to speed up connection times, including an amnesty on Transmission Entry Capacity (TEC) charges and updating modelling assumptions. NGESO's plan also recognised the need to develop new contractual terms for connection contracts to manage the queue more efficiently so that those projects that are progressing can connect and those that are not can leave the queue.
Those proposals have now crystallised. Ofgem's decision to approve a proposed modification (CMP 376) to the Connection and Use of System Code (CUSC) introduces a new "Queue Management Process" to Construction Agreements which, for the first time, expressly manages the queue by terminating projects that are not on track with specified milestones. This has significant practical implications for both existing and planned projects.
Who will be affected?
Importantly, Ofgem has made the proactive decision to ensure the Queue Management Process will apply to all existing agreements with a contracted Completion Date of more than two years from implementation. This means that all existing agreements with a connection date after November 2025 will be subject to the new rules.
The Queue Management Process will also apply to all projects with a Completion Date of less than two years where NGESO has reason to believe that a project is not progressing in accordance with the pre-agreed Construction Programme. So, existing projects with a connection date prior to November 2025 can still expect to be subject to greater scrutiny by NGESO should they not be progressing as expected.
The Queue Management Process will be included in any new Connections Offers and introduced into agreements when a Modification Application (Mod App) is made.
Implementation
Every party with an existing Construction Agreement will be notified of these changes by NGESO and invited to make a Mod App to amend dates or leave them as they are, in order to incorporate the new Queue Management Processes.
If a party does not make a Mod App within six months of this notification, NGESO will vary existing Construction Agreements to incorporate Queue Management in any event.
What changes? Use it or lose it.
Essentially, the progress of all projects will now be measured by NGESO against a series of milestone events. Existing and new projects will have specific dates by which milestones must be met, working back from the contracted Completion Date. There are two categories of milestones:
Conditional Progression Milestones

: mandatory timescales which must be met and which, if they are not, will result in the termination of the Construction Agreement. These include initiating and securing statutory consents and planning permission, and securing land rights. These milestones must also continue to be met on an ongoing basis.

Construction Progression Milestones

: must also be met and if not, may result in the termination of the Construction Agreement. These include the design work submission, construction plan, project commitment, and initiating construction.
NGESO will publish guidance intended to enable parties to understand, in practical terms, how the Queue Management Policy will work. Provision is also made for exceptional circumstances and periods provided for remedying problems. Nevertheless, if milestones are not met projects will not be delayed or moved further down the queue, they will face the prospect of losing an agreement for connection altogether.