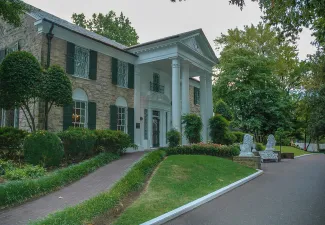 Looking back through history, there are very few people who can be instantly recognised by only one name.
Bono? Perhaps. Adele? Maybe one day. But those names are likely to be permanently eclipsed by one that has dwelled in the public consciousness for almost 70 years – Elvis. The so-called "King of Rock and Roll" enjoyed a career which changed the course of modern music and set him apart as one of the most significant cultural figures of the 20th Century, but was famously marred by mismanagement and a taste for excess which led to financial difficulties.
Following the premature death of Elvis' only daughter, Lisa Marie Presley, in January this year, the Presley estate is once again making headlines, particularly with regard to claims that Priscilla Presley (ex-wife to Elvis and mother to Lisa Marie) is seeking to challenge the terms of her daughter's Will. But what is the truth behind the headlines, and how might a similar scenario play out in Scotland?
The Legacy of the Presley Estate
When Elvis Presley died in 1977, his Will left his estate to three beneficiaries – his father (Vernon Presley), his grandmother (Minnie Mae Presley) and Lisa Marie. Both Vernon and Minnie Mae died within a few years of Elvis, leaving Lisa Marie as the sole beneficiary of the estate.
Under the terms of Elvis' Will, Lisa Marie was not entitled to receive her share in the estate until she reached the age of 25. This meant that those assets were held in a trust for Lisa Marie, presided over by Priscilla Presley, the National Bank of Commerce in Memphis and Joseph Hanks (Elvis' former accountant) as trustees.
But there was a problem – Elvis' free spending in addition to a hefty tax bill levied on the estate after his death meant that the estate was cash poor and unable to keep up with the costs of running Elvis' famous home, Graceland.
As a result, Priscilla Presley created Elvis Presley Enterprises (EPE) in 1981 – a company with a professional management team, intended to manage the assets and conduct the business of the estate. Although the Presleys retained ownership of Graceland, the doors of the 23-room mansion were opened to the public under the organisation of EPE (and it is estimated that, even today, the landmark attracts over 500,000 visitors annually).
EPE has since been instrumental in transforming Elvis' legacy into a highly profitable brand, notorious for its fierce protection of the estate's Intellectual Property rights.
Lisa Marie became entitled to receive her share in the estate in 1993, but rather than receiving this outright, she opted to create a revocable living trust ("the Promenade Trust"), retaining Priscilla and the National Bank of Commerce as co-trustees. In addition to holding Graceland and all of Elvis' personal assets, this trust held 100% of the shares in EPE. Together, Lisa Marie and Priscilla continued to build on the success of the Presley estate throughout the 1990s.
However, Lisa Marie suffered some very public financial difficulties in the years that followed. In 2005, the Promenade Trust sold 85% of its holding in EPE, a decision which Lisa Marie would later sue her business manager (Barry Siegel, who was appointed as a trustee of the Promenade Trust in 2003) for. She would also claim that Siegel had failed to fully apprise her of the trust's poor financial position, enabling her to continue spending in an unsustainable fashion. All of this, supplemented by four costly divorces, contributed to a relatively unstable financial picture for the world's most famous daughter.
Is Priscilla Presley challenging Lisa Marie's Will?
In short – not really.
As mentioned above, Lisa Marie Presley's assets were held in a revocable living trust. This is a popular estate planning device operating in many US states, which allows an individual to retain an element of control over their own assets during the course of their life, but outlines who should receive those assets, and who should be responsible for dealing with the distribution on their death.
This structure is often adopted in favour of holding assets personally and executing a Will to deal with those, as it avoids the need for the estate to enter a court-supervised probate process following the death of the individual (although, generally speaking, it does not shield the estate from Estate Tax – the US equivalent of Inheritance Tax). On that basis, reports indicate that Lisa Marie did not have a Will, as such.
In 2010, Lisa Marie restated the terms of her trust and clarified that she wished for her mother and Barry Siegel to act as trustees and deal with distribution of her assets on her death.
Priscilla Presley is now seeking to challenge an alleged amendment to Lisa Marie's trust arrangement (signed in 2016), which sought to remove Priscilla and Barry Siegal as trustees of the trust, replacing them with Lisa Marie's daughter, Riley Keough, and son, Benjamin Keough. Benjamin Keough died in 2020, which means that Riley Keough would be left as the sole trustee, if the amendment is deemed to be valid.
Priscilla Presley is effectively seeking to have herself reinstated as trustee of the Promenade Trust. The assumption appears to be that Barry Siegal will resign, so that Riley Keough may act alongside her grandmother in dealing with the management and distribution of her late mother's assets going forward.
Issues with the amendment
Priscilla is seeking to challenge the amendment on the basis of the following:
The amendment mis-spells Priscilla's name,

Lisa Marie's signature appears on a separate page to the substantive provisions of the amendment,

Lisa Marie's signature 'appears inconsistent with her usual and customary signature',

The amendment was neither witnessed nor notarised, and

Contrary to the terms of the trust deed, the amendment was never notified to Priscilla or to Barry Siegel.
The petition indicates that Priscilla is concerned with both the technical irregularity of the document, and the potential that there may have been an element of fraud in this case.
It is important to understand that Priscilla is seeking to have herself reinstated as a trustee, she is not seeking to challenge Lisa Marie's wishes in terms of who should ultimately benefit from her estate. In this regard, claims that this petition is some form of 'money grab' would appear to be unfounded.
So, how might a similar scenario play out in Scotland?
In Scotland, while many do use trusts as part of their estate planning, it is relatively unusual for an individual's entire estate to be held in trust during their lifetime. Instead, it is far more common for an individual to hold their assets personally, and for distribution of those assets to be determined by the terms of their Will, following their death.
It is, however, entirely possible that a situation similar to this one could arise, if an individual purported to change the executors nominated in their Will through an informal writing which did not adhere to the terms of the Requirements of Writing (Scotland) Act 1995. Indeed, it is not unusual for families to find informal writings tucked away in drawers after the death of a loved one.
While a testamentary writing need only be signed by the granter in Scotland in order to be valid, there are a host of further requirements that must be fulfilled in order for the Will to be 'probative' (or 'self-proving'). This is a hurdle that must be overcome if the document is to be relied upon for the administration of the individual's estate. 
If the testamentary writing is not probative, an application must be made to the court to cure the deficiencies, providing evidence to support the legitimacy of the document.
Regardless of whether this legal hurdle can be overcome, the emergence of informal writings which were not intimated to the granter's family during life can cause confusion and upset after death. While the outcome of Priscilla Presley's petition remains to be seen, this well-publicised case may turn out to be nothing more than a harsh reminder of the risk of altering documents with testamentary effect without taking appropriate advice and failing to openly discuss testamentary wishes with family members during life.