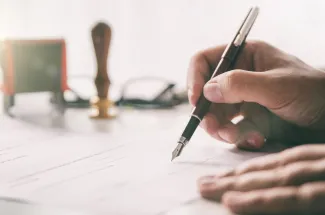 With promises of a White Paper on immigration reform expected to be released any day now, sponsors are waiting with bated breath to see if the UK Government intends to adopt the Migration Advisory Committee's recommendations that the Resident Labour Market Test (RLMT) is scrapped. In the meantime, there is no let-up in the pace of change to the law regarding sponsorship.
One important change that crept into the Sponsorship Guidance in July 2018 is worth red-flagging. We believe the change is a response to the Home Office's success earlier in the year in the case of Exmoor Surgery. The GP practice in question had employed a migrant worker after a shortlisting process, and the court agreed with the Home Office that the practice should have gone back to the wider application pool before recruiting a migrant.
Record keeping is a key component of the RLMT, and is the means by which Sponsor Compliance Officers assess compliance at audit. Previously, the guidance had required employers to keep records only in respect of settled workers who had been short-listed. However in a subtle addition, a modified paragraph to appendix D now reads: " …for each settled worker who was rejected or did not take up the offer of employment, interview notes or other documentation which show the reasons why they have not been employed". In the Exmoore Surgery case, the High Court in England found that the RLMT had not been run properly.
The implication of this change is clear – if you have a hundred applicants and don't screen for the immigration status at this stage, and they are not shortlisted, you must keep "other documentation" to demonstrate why they were refused. This is burdensome, and the policy team at the Home Office, has confirmed the positon, stating that case workers felt they needed an extra tool to prevent abuse of the RLMT. 
While many will hope a new White Paper will abolish the RLMT, all sponsors should evaluate their HR policies and ensure that all applications are being retained.