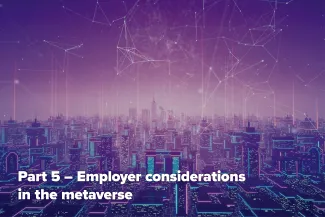 Introduction
The use of technology is already significantly more prominent in the workplace than it was pre-pandemic, with virtual meetings a staple of many people's working days. For some, it seems inevitable that this use of technology will progress and the metaverse will become a feature of the hybrid and remote working environment. It is likely that some employers will soon be considering how best they can utilise the metaverse for better employee and client engagement. Microsoft Teams is widely used in workplaces, and Microsoft Teams have already added the option to join these meetings via 3D virtual avatars. In the fifth and final article of our metaverse series, we will discuss the use of this immersive online technology in an employment context and set out some of the considerations that employers will be grappling with if looking to harness this technology in the workplace.
Diversity and inclusion
The option for individuals to personalise their avatars requires organisations to be mindful of their diversity and inclusion responsibilities. UK law prohibits discrimination based on nine protected characteristics (age, disability, gender reassignment, pregnancy/maternity, marriage/civil partnership, race, religion or belief, sex and sexual orientation). The notion that individuals should design an avatar to reflect their own image raises a host of potential issues. Will the technology be capable of adequately representing an individual's gender identity, age, race or disability for example? Should avatars be able to wear a wedding ring or show when they are pregnant? If the technology isn't advanced enough to offer sufficient options, the employer may be at risk of discrimination claims from employees denied the same accurate-avatar experience as their colleagues.
On the other hand, employers may be criticised for insisting on too much avatar-accuracy and should think carefully before challenging individuals for using too much artistic license. If the avatar-creation process asks too many questions and is too specific, this may also give rise to discrimination as well as privacy issues. The law currently protects against perceived discrimination in some circumstances. If employees can give their avatar any characteristics they wish, could they then suffer discrimination in connection with their avatar's characteristic even when they don't have it themselves in real-life? Possibly.
Employers should closely review the technology used by their chosen metaverse platform to assess its strengths and limitations, and the associated risks.
Misconduct
Employers would also need to consider how the virtual workplace, and how an individual conducts themselves within it, would be regulated. Presumably, employees would be expected to behave in the virtual workplace as they would in person, but would there be a higher risk of bullying and inappropriate behaviour if individuals feel they can hide behind their avatars? It's likely. There were reports that incidents of bullying and harassment increased during the pandemic, and these were attributed to increased levels of home-working and reduced supervision.
There is also the question of where the virtual workplace and the virtual outside world begin and end. The increased use of social media in personal lives has already created issues for employers. It is now accepted that, in some circumstances, employees can be subject to disciplinary procedures and fairly dismissed for content that they have posted on their personal social media pages. The use of the metaverse will likely blur the lines between professional and personal even more, particularly if the metaverse truly becomes interoperable, in the fashion envisaged by Meta and other technology providers, allowing people to seamlessly move between worlds. Employers and tribunals alike will need to consider whether it is appropriate for a real-life employee to be disciplined or dismissed for their virtual actions outside the virtual workplace.
Employment and equality law naturally has and continues to evolve over time, and our courts and tribunals are used to interpreting and applying existing rules in a more modern world. However, how equipped they would be to address issues arising in the metaverse remains to be seen. In the meantime, employers considering their first steps into the virtual workplace should be considering the potential pitfalls, reviewing and updating existing policies, and perhaps creating its own metaverse policies covering avatar creation and a code of virtual conduct.
The Metaverse series
Part 5 – Employer considerations in the metaverse
We hope that you have enjoyed reading our metaverse series. These are exciting times for businesses and for lawyers as the expansion of the metaverse continues. If you would like any help with assessing how the metaverse presents legal opportunities or challenges, please contact Joanna Boag-Thomson, Gillian Moore or your usual Shepherd and Wedderburn contact.