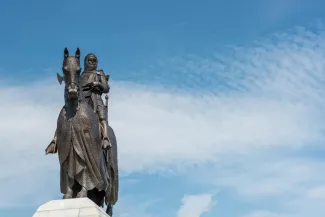 Scotland has been at the forefront of innovation in financial services for more than 200 years, from the creation of the first investment trust, the invention of life insurance and through to the development of ATM technology.
Today, innovation in the sector is centred on the development and use of financial technology or 'fintech', for example blockchain, to lower costs and enhance the experience for customers who increasingly are demanding the same level of service and choice in financial services they get making a purchase on Amazon or downloading an App on Apple's App Store.
Driven in part by regulatory developments, such as the revised Payment Services Directive (which is encouraging the development of new payments and information technologies by putting customers in control of their bank accounts and data), this wave of innovation presents a huge opportunity for Scotland. 
And Scotland is well placed to capitalise on this opportunity.  It has a financial services sector – worth more than £8 billion annually to the Scottish economy –  with institutions with the expertise required to bring financial products to market and navigating the complex regulatory environment, but which is also small enough to allow the extensive collaboration and cross-fertilisation of ideas between those institutions and smaller, innovative, technology developers that are necessary ingredients for success.  
Scotland also has a large University sector, with world-leading expertise in informatics and data science producing people with the right skills. And it has the institutions, such as Scottish Enterprise and the proposed Scottish National Investment Bank, which can support the growth of the sector. 
Another of those institutions is Fintech Scotland.  Established earlier this year through a partnership between the Scottish Government, Scottish Enterprise, the University of Edinburgh, HSBC, Lloyds Banking Group and Avaloq – the banking services provider, its strategic goal is to make Scotland a top five global fintech centre by 2020. To achieve this goal, it will act as an enabler to create an integrated Fintech ecosystem.
The development of that ecosystem will not only support the growth of home grown innovative businesses; it will also encourage inbound migration of businesses from elsewhere in the UK and overseas. Scotland has already had some success in this, with payment services provider Modulr Finance establishing an office in Edinburgh and Encompass, a 'know your customer' technology provider, relocating to Glasgow from Australia.
Scotland's fintech sector also has a role to play in changing the perception of the financial services sector, which still suffers from the damage inflicted by the financial crises a decade ago, as well as in driving financial inclusion. Consumers want to see business operating as a force for good in society. Mission driven Scottish fintechs like Sustainably, which makes it easy to donate to charity when paying for goods and services by credit or debit card, and Castlight Financial, a data analytics business whose purpose is help consumers take only take on debt they can afford, are two great examples of this.  
The next two years will be crucial in the development of Scotland's fintech sector. We have a really strong base from which to work. The objective is to use that base to establish an ecosystem which will sustain the Scottish financial services sector over the long term.