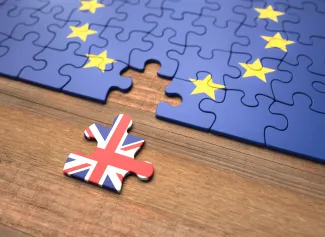 A large part of UK employment law is derived from EU law. This has led to considerable speculation about the impact Brexit would have on our domestic law. On the same day that the government confirmed that it is abandoning the sunset clause in the Retained EU Law (Revocation and Reform) Bill, under which almost all EU law is automatically revoked at the end of 2023 unless a statutory instrument is passed to preserve it, a number of new employment law measures have been announced. This perhaps signals the start of a period of post-Brexit change to employment law over the coming years.  
The new employment law measures are set out in the policy paper 'Smarter Regulation to Grow the Economy'. The measures include removing reporting requirements from the Working Time Regulations 1998, introducing rolled-up holiday pay, extending the exception for smaller businesses from the need to elect employee representatives under the TUPE Regulations, and limiting non-compete clauses to three months.
Limits on non-compete clauses
Changes to the law on restrictive covenants have been anticipated since a Government consultation was published on 4 December 2020. The change which has been announced is much less drastic than the initial proposals, which included a complete ban on such clauses, or requiring the employer to pay compensation for the period of the restriction.  However, the change will have significant consequences.
For very senior executives, it is not unusual to see six month, and sometimes twelve-month, non-compete clauses. In many cases these will meet the current legal test on enforceability (i.e., they are no wider than is reasonably necessary to protect the employer's legitimate business interests).  In fact, for this category of employee, a three-month restriction is rare, and so this limit will be a significant change.
The devil, as always, will be in the detail of the legislation, but importantly the government has stated that there will be no change to the position in relation to the use of notice, garden leave, non-solicitation, and confidentiality clauses. This helps to take some of the sting out of this proposal for businesses.  
The consequences of this change, when introduced, are likely to be:
A need to review restrictive covenants in existing contracts

Greater use and reliance on garden leave provisions along with the possibility of longer notice periods becoming more normal

Increased importance of well drafted non-solicitation clauses preventing solicitation of customers, key employees, and suppliers. The position on "non-dealing" clauses is not clear, but these will be equally important if lawful.
There is no clear indication of when this change will happen. Legislation will be introduced "when Parliamentary time allows" and that could take some time.
Changes to the rules on holiday pay
The challenges the rules on holiday pay have caused over recent years is well known. It is not yet clear how far the proposed changes to the Working Time Regulations 1998 will go to resolving those issues, but they are at least a step in the right direction. The three proposed changes are: -
introducing rolled up holiday pay. This is likely to be the change which will have the biggest impact

merging the separate 'basic' and 'additional' leave entitlements into one entitlement to annual leave. Employees will have the same overall entitlement to annual leave, so this change may have little effect.

removing retained EU case law that requires businesses to keep working time records for almost all members of the workforce. Although the Government states that "this will cut red tape for businesses and help them save £1bn per year while protecting the rights of workers" it is difficult to see how this will have much of an impact given the current widespread non-compliance with these requirements.
Changes to TUPE
The Government will also consult on removing the requirement to elect employee representatives for the purpose of TUPE consultation for businesses with fewer than 50 employees and transfers affecting less than 10 employees. These businesses will be able to consult directly with the affected employees. Currently there is an exception to the requirement to elect employee representatives for businesses with fewer than 10 employees. This means that this change is minor and likely to affect only a small number of TUPE transfers.
No date has been announced for the changes to holiday pay and TUPE, but they could happen reasonably quickly.
The changes to non-compete clauses and rolled up holiday pay are significant, but are very far from a radical post-Brexit overhaul of our employment laws. It is unlikely that will happen, but what we are likely to see over the coming years is gradual smaller changes such as those just announced. There will be interesting times ahead!
If you have any questions regarding any of the above, please do not hesitate to contact Deborah Miller.