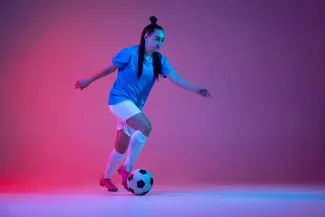 As competition continues to rage in the Southern Hemisphere at the Women's World Cup, readers will hopefully forgive us following last week's commentary on Karen Carney's review of domestic Women's football here with a further comment on Women's football.
The highly respected University of Edinburgh's Academy of Sport published a report into fan engagement with the Scottish Women's National Team (SWNT) on July 26 2023 here. There are many interesting findings but two, in particular, perhaps light the way for the game.
The report suggests that while winning is viewed as important, 88% of those attending Hampden for Women's matches reported that sharing the experience with family or friends was equally, more or much more important. This might represent a natural expectation management from followers of Scotland's national teams, but it also suggests that these are customers who want an "experience" from their day out.
More importantly, 75% of supporters of the SWNT hold either a college, university or post-graduate degree. The majority reported a household income of above £20k per annum, while 12% reported a household income of between £90k and £100k per annum. This is a highly attractive customer base with a depth of disposable income.
The Carney review was heavy on demands and light on ways in which Women's football can fund them. Clearly, however, Women's football in Scotland can offer an "experience" that many well off customers are prepared to buy. Get the product right and the customers have the revenue needed.
Perhaps this will hold true for Women's sport beyond football? This is the entertainment business after all.