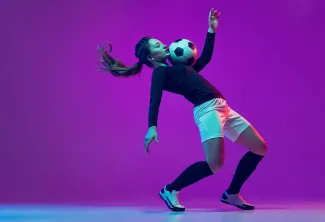 The ninth edition of the FIFA Women's World Cup kicked off today in Auckland, New Zealand, with a 1-0 win for the hosts over Norway.
The 2023 tournament aims to build on the success of last year's European Championships in England which witnessed a final with a record-breaking attendance of 87,192 spectators.
Against this backdrop, Karen Carney MBE, a former England international, has recently published her ambitious review, commissioned by the UK Government, on the future of domestic women's football.
Carney's review focused on various aspects, including examining the opportunities and challenges in the women's and girls' game and presenting a roadmap to elevate the minimum standards at all levels.
The recommendations aim to deliver sustainable growth in women's football, covering crucial areas such as:   
1. The Establishment of a Standalone Company: The review suggests creating a separate entity (a "NewCo") for the Women's Super League and Women's Championship, transforming them into fully professional leagues. This approach aims to professionalise the game and create a distinct brand, enhancing visibility, recognition and fan engagement.
History in other sports, however, suggests a greater trend towards integration between women's and men's tournaments. A "go-it-alone" strategy in a crowded sporting market would certainly be courageous. The review calls for greater investment from the men's game into the women's game and it is difficult to see how separating commercial rights would incentivise that.
2. Minimum 'Salary Floor' and Comprehensive Healthcare:
Carney's review advocates for the implementation of a minimum salary requirement by the 2025/26 season to improve financial stability in women's football. The review also emphasises the need for Gold Standard Healthcare, addressing concerns over players retiring prematurely due to inadequate medical facilities.
While these well-intended measures would promote player welfare and encourage talent retention, there are concerns regarding the potential strain on financial resources and the commercial viability of such proposals. In a world where many women's clubs have only just become professional, this type of approach without an accompanying investment strategy might close a number of them down.
3. A Dedicated Broadcast Slot for Women's Football:
To address commercial concerns, Carney suggests offering a dedicated broadcasting slot to women's football, with the Saturday 3pm slot suggested. This would require the support of the football authorities to provide an exemption to the traditional broadcasting blackout period on Saturdays at 3pm, designed to protect attendances at games.
Amidst the bustling schedule of modern football, finding a dedicated slot for women's football will be challenging. The packed calendar, with its 12:30 and 17:30 Saturday kick offs, its "Super Sundays" and captivating Monday and Friday night football, leaves little room for a prominent place for women's games. And that is just the English Premier League alone.
Despite this, achieving a dedicated exclusive broadcast slot for women's football would provide consistent and exclusive coverage for the game, elevating visibility and increasing fan engagement. This would ensure the game receives the attention and recognition it deserves and could play a part in protecting its commercial viability, which would in turn support the proposed minimum salary floor and healthcare offering.
4. Identification of Strategic Partners:
The review proposes the need for collaboration with organisations, sponsors, and stakeholders to provide crucial resources and support to nurture the next generation of players. A dedicated entity, as proposed by the review, may facilitate partnerships with like-minded stakeholders committed to the growth and success of the game.
Carney calls for further investment in "talent pathways", highlighting the disparity in funding between boys' and girls' Academies (£88 million and £3.25million). Clearly enhancing the value chain at all levels of the women's game will be necessary to support this.
Is this a defining moment for the women's game?
The women's game has made great strides forward in recent years. The strategic recommendations set out by Carney's ambitious review provide an excellent background for debate on the next steps for women's soccer. Sport is brutally competitive, both on the pitch and commercially. There are great rewards for the right product at the right time. As the 2023 FIFA Women's World Cup kicks off, do we have the right product at this time to realise those rewards? If so, the points raised by this review need to be debated with the same energy as the players show on the pitch.
This article was co-authored by, Yaser Razouk, Trainee solicitor in our commercial disputes team.