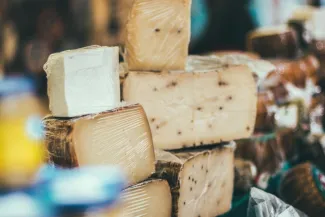 The identification of the food and drink sector as key in the response to the COVID-19 (C19) crisis seems obvious and unquestionable. Scratch the surface though and questions emerge, perhaps unsurprisingly because of the haste with which the emergency legislation was passed.
The starting point recognised in the Coronavirus Bill was that the food supply chain involved not just producers but also intermediaries. The bill has now (from 25 March) passed into law – the Coronavirus Act 2020 (CV20). s 25-29 of that same Act extends to those "closely connected with" the food supply chain and, in the explanatory note to accompany the Bill, the supply chain was confirmed to extend to businesses involved in production, stock, seed supply, equipment supply, packaging and distribution. 
The question remains, where does the list stop? Food supply chains have become increasingly complex, with multiple ingredients and products coming together "just in time" to make up the finished item. In order to ensure consumer safety and prevent food fraud, rigorous standards are set, for example by the British Retail Consortium, to ensure that all food is prepared in food-grade standard conditions, with machines to X-ray production lines for metal fragments, and to high hygiene standards.
If these emergency laws (which we are told are to be further refined) are not to lead to unintended consequences, then a flexible approach will need to be taken by the Food Standards Agency, Food Standards Scotland, local authorities (in Scotland) and indeed the police in intercepting or challenging the ability of employees to attend their workplace and contribute to the supply chain.
Take a couple of examples. Suppliers of packaging are recognised in CV20 as part of the food supply chain, and rightly so – the product must be of food-grade quality. The packaging also requires under pre-existing food information laws to be applied to packs, in order to comply with (amongst others) allergen listing requirements. What, then, about the printers of those labels or polythene wrappers? What about the suppliers of the ink to those printers? Are they part of the food supply production chain? The Act refers to those closely connected, including in the context of the safety and quality of the food; we would hope that this extends to its proper labelling. 
In any food factory, hair nets are mandatory, and often polythene overshoes as well. These tend to be single use for hygiene reasons. If these nets can no longer be sourced, because the staff of those manufacturers are not considered key workers, then a production requirement that is key to hygiene will not be met.
In a situation where the UK Government has, on 25 March, announced that off licences are essential businesses – no doubt prompted by demands for a level playing field with supermarkets – it is to be hoped that those enforcing the "essential business" tests can address these and similar concerns fairly. While it cannot ever be black and white, there are more than 50 shades of grey here, and any uncertainty and inconsistency of approach across the country will bring issues of its own. 
George Frier is Head of Food and Drink. For more information, contact George on 0141 566 8520 or at george.frier@shepwedd.com, or visit the Shepherd and Wedderburn COVID-19 Advisory Group webpage.