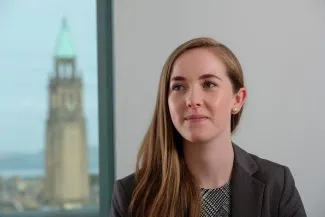 The Ministry of Justice has announced that wills can now be witnessed remotely in England and Wales in a welcome legislative amendment.
Previously, section 9 of the Wills Act 1837 precluded remote witnessing of wills in England and Wales due to the requirement that the will be executed by the testator "in the presence of" at least two witnesses all being together at the same time. It is also important that these two witnesses be independent, meaning they should not be family members or those mentioned under the will. Therefore, social distancing measures have made it particularly difficult to meet this requirement, especially if the testator was isolating or shielding, and have resulted in great difficulties for testators wishing to make or amend a will during the crisis. 
Following the announcement, a statutory instrument under the Electronic Communications Act 2000 will be enacted in September stating that the phrase "in the presence of" can mean either physically or virtually via video link. The amended law will be backdated to 31 January 2020 and will be retained until 31 January 2022 or longer, if deemed necessary. This means that the amendment will cover not only those wills witnessed remotely going forward but also those witnessed remotely since the beginning of the pandemic. This will reassure the public as to the validity of any wills witnessed remotely during the pandemic in the hope that the phrase "in the presence of" would later be interpreted by the courts to include virtual witnessing via video link. While the amendment will have retrospective effect, the amendment will not apply in cases where probate has already been issued or where the probate application is already in progress. At the end of the quoted term, it is believed that the law will return to the previous position in that the witnesses must be physically present, as the UK Government has confirmed that this measure is temporary with no immediate plans to relax formality in signing of wills permanently.
In order for wills to be witnessed remotely, there are various requirements that must be met concerning the quality of the sound and video and the use of specific wording in the attestation. Remote witnessing is only to be used as a last resort and strict precautions must be taken to deter fraud or undue influence.
This move brings English law in line with Scots law, which has allowed remote witnessing since the Law Society of Scotland issued guidance in March 2020.
If you would like further advice on this or another related matter, please contact Laura Rennie, Christopher McGill or your usual Shepherd and Wedderburn contact.