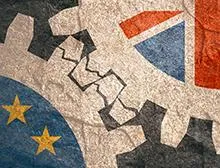 Despite our prediction of an eventful few months, there has been little progress in the Brexit trade deal negotiations since our last bulletin. There has been no breakthrough on the key issues: competition, fisheries and governance. Negotiations between the UK and the EU were temporarily paused because of a lack of progress.
However, the UK Government agreed to resume talks after the EU's chief negotiator, Michel Barnier said "compromises on both sides" were needed. While negotiations began again on 22 October, the UK Government has indicated there is every possibility a deal will not be reached because significant areas of disagreement remain with the EU.
The UK Government has stated that the country should still be prepared to trade with the EU on a no-deal basis. This means the UK could expect a more limited relationship with the EU, which may resemble that of Australia and involve defaulting to World Trade Organisation rules. The Prime Minister insists this would be a good outcome.
Business organisations have increased pressure on the UK Government to reach a deal, claiming this is crucial for a post-COVID economic recovery. The UK has said that the door is "still ajar" but the EU must speed up negotiations and offer better "Canada-like" terms. The EU says it is committed to reaching an agreement, but not at any cost.
One recent key development has been the UK Internal Market Bill. This was put to Parliament in late September and includes provisions to override parts of the divorce agreement agreed and signed by the UK and EU last year. The UK has described the Bill as a safety net to protect the UK's integrity. However, the EU has raised legal proceedings, claiming the Bill breaches international law. This week the House of Lords debated the Bill and voted to put on record that the Bill would undermine the rule of law and damage the UK's reputation, commenting that to pass it would be to tantamount to knowingly granting power to the UK Government to break the law.
The UK and EU have accused each other of not being willing to compromise and of breaking promises. The question now is whether the UK and EU can set aside these differences and make progress in their trade negotiations.
Time is short. A no-deal arrangement is becoming a distinct possibility and one that all businesses should prepare for.
Elsewhere, the UK has signed a trade agreement with Ukraine to ensure trade continues with minimal disruption from 1 January 2021. On 15 October 2020, the UK and Côte d'Ivoire signed an Economic Partnership Agreement maintaining existing trade arrangements. The agreement allows businesses to trade as freely as they do now, without any additional barriers or tariffs
Our trade and commerce team has a broad range of experience in advising UK and multi-national businesses operating across all sectors, assisting clients with ongoing business and trading requirements. This is our second bulletin in a series of short bulletins released in the lead-up to 31 December, offering high-level overviews of trade developments.
If you would like further advice on this or another related matter, please get in touch with Alison Rochester or Roddy Forgie, of our trade and commerce team, or your usual Shepherd and Wedderburn contact.
Click below to subscribe to future trade and commerce bulletins. To view our September bulletin, please click here.