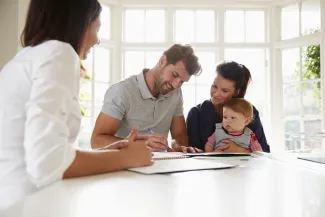 Implementing a Power of Attorney – it's not exactly a run-of-the-mill topic of conversation for the average 20-something-year-old. Indeed, you might not consider broaching the subject until you're hanging up your boots for the final time, ready for a life of leisure in retirement. However, while you're carpe diem-ing your way through life, it's always worth remembering that unforeseen events which lead to the loss of capacity could be moments away from anyone, young or old.
While we cannot predict misfortune, putting a Power of Attorney in place is just one of the ways that you can plan for it.
What is a Power of Attorney?
A Power of Attorney is a document which allows you to choose who can deal with your affairs if you are physically or mentally unable to do so yourself - either permanently or temporarily.  
Anyone aged 16 or over can instruct a Power of Attorney, provided that you have capacity at the time of signing. In doing so, you retain full control over who your attorneys are and what powers they have. You can change your attorneys at any time whilst you have capacity, so as circumstances evolve, your Power of Attorney can too.
What are the different types of Powers of Attorney?
There are two types of Powers of Attorney: 1) Property and Financial (or "Continuing"), and 2) Health and Welfare (both can be included in one combined document).
A Continuing Power of Attorney allows your attorney(s) to manage your property, assets, and finances. Your attorney(s) can assist you as soon as your Power of Attorney is registered with the Office of the Public Guardian (the government body which oversees attorney administration). So even if you have not lost mental capacity, your attorney(s) will be able to assist you with financial matters if you want or need them to, at any age and for any reason.
A Health and Welfare Power of Attorney allows your attorney(s) to make medical and welfare decisions on your behalf, such as final decisions on medical treatment. These powers can only be used by your attorney(s) if you have been declared to have lost capacity by a medical practitioner.
It is possible to appoint the same person (or people) to act as both continuing and welfare attorneys, or you can choose different individuals for each role, depending on your personal circumstances.
Why put one in place now?
"Life's too short" is the oft-touted mantra intended to encourage us to cast our worries aside and live in the moment – but it's much easier to enjoy the here and now when we know we have appropriate safeguards in place for the worst-case scenario. That's why many individuals take out life insurance policies, and a Power of Attorney could be viewed as an insurance policy for safeguarding your future.
In circumstances such as a brain injury, many assume that their family would easily be able to access assets and make crucial healthcare decisions – but unfortunately, that is not the case where no Power of Attorney is in place.
Powers of Attorney can also assist individuals going through episodes of serious mental illness, or in instances of severe drug or alcohol addiction. Your affairs can be managed throughout this time by someone you trust, and on your recovery, you can resume control of matters with no effect on the Power of Attorney, or its validity should you require it again in future.
On a more positive note, if you are an avid traveller, Powers of Attorney can also allow you to appoint someone to manage your finances while you are out of the country. Your attorney will be able to pay unexpected bills, cancel that free trial-turned-subscription you forgot about, or even buy and sell investments on your behalf.
What if I don't have one in place and I lose capacity?
Without a Power of Attorney, those supporting you would need to apply to a court for a Guardianship Order to assume control of your affairs. This process is lengthy, expensive, and stressful for loved ones. You also lose control over who is appointed to administer your affairs, and it may not be someone that you would have selected yourself.
Putting a Power of Attorney in place is the only way to protect these choices and will give you peace of mind that things will be managed by those that you appoint (after careful consideration), not those chosen by a court.
With any luck, your Power of Attorney will simply be the safety net that dwells in the drawer gathering dust for many years – but just knowing that it's there can be instrumental in helping you to 'seize the day' a little harder, however old you are. Our Private Wealth and Tax team are always happy to discuss Powers of Attorney, and planning for the future more generally, at any time.
This article was co-authored by, Madeleine Gill, Trainee in our Private Wealth and Tax team