---
Shepherd and Wedderburn targets growth in Aberdeen and the north east of Scotland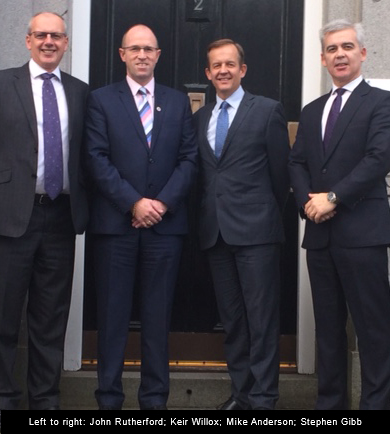 Shepherd and Wedderburn has today announced further expansion of its Aberdeen operations through the acquisition of The Commercial Law Practice (CLP), an independent business law firm, which has provided legal services dedicated to the business community in Aberdeen and surrounding areas for more than 20 years. The deal is expected to be completed by 1 January 2017 and Shepherd and Wedderburn will operate from the current CLP premises in Aberdeen's commercial district. CLP partners Mike Anderson and Keir Willox will become partners at Shepherd and Wedderburn, and Ma'aruf Razzak becomes a director.
Widely recognised as the go-to firm in the energy sector, Shepherd and Wedderburn currently advises 25 per cent of companies listed in the BRINDEX, and from its newly expanded base in Aberdeen and its offices in Edinburgh, Glasgow and London, the firm is confident of being able to grow that business stream further, harnessing its in-depth industry knowledge and expertise to do so.  
Shepherd and Wedderburn, Chief Executive, Stephen Gibb, said: "Aberdeen and the north east remain a cornerstone of the Scottish economy. This acquisition means that we now have a significantly bigger footprint in the region and that in turn means that we can offer clients the benefit of an enhanced raft of services such as litigation; planning, banking & finance, rural and private client advice together with the corporate, commercial real estate and business law advice already offered. 
"We have an excellent team. This acquisition represents a great investment for the firm and will be followed by further senior hires in the new year."
CLP's Mike Anderson added: "We believe that there is a huge opportunity for Shepherd and Wedderburn to cement its position in the north east, building on our combined strengths. The partners and staff are excited to be joining a UK firm of the stature of Shepherd and Wedderburn and I look forward to the challenge of helping to drive the business forward in this part of the country and beyond."
The acquisition comes hot on the heels of two local hires made by the firm in April and October of this year: John Rutherford, formerly a senior corporate partner at Pinsent Masons Aberdeen, and Charles Scott, formerly Managing Partner of Mackinnons, a long-established firm in the region. Rutherford and Scott will join forces with Anderson and Willox to drive forward the Aberdeen business. 
Rutherford said: "Working in Aberdeen, I certainly understand the current economic challenges facing businesses in the region. However, I also see businesses which are robust and innovative and adapting well to a difficult economic climate. I look forward to working with our new colleagues from CLP in order to help these inherently strong organisations find the right solutions to enable them to forge ahead."