---
Shepherd and Wedderburn hosts Property 2016
Now in its 17th year, Scotland's premier property conference, Property 2016, returns to the Edinburgh International Conference Centre (EICC) on Thursday 10 November and once again promises to deliver an outstanding panel of speakers and the highest calibre of delegates.
The event brings together leading industry figures, including property developers, investors, occupiers, lenders and service providers, who will share their unique perspectives on this year's theme 'Place-making – building the best for the future'.
Colin Innes, Partner at Shepherd and Wedderburn and conference chair commented: "Low to negative interest rates, the prospect of leaving Europe, a chronic housing shortage and the emergence of new technologies all add up to an interesting cocktail of challenges for today's place makers. Property 2016 is therefore timely in that the expert panel of speakers will steer the audience towards new ways of thinking about these very real issues."
The conference will tackle some of the most pressing issues currently affecting the real estate sector. Rob Groves, Development Director for Paradise Circus, Birmingham and John Clancy, Leader of Birmingham City Council will share their thoughts on how cities are best developed to create affordable urban accommodation for the people we rely on to keep our cities moving and prospering.
Chris Choa, Head of Urban Development at AECOM, will address what impact driverless cars will have on real estate planning and development, while Ian Thomas, Co-Founder of LendInvest will explore why, even in a rich economy such as the UK's, it is so difficult to find the right financial structures to deliver the built environment. He will go on to explore whether alternative investment models can provide a pain free catalyst to greater investment in property development.
Speakers include: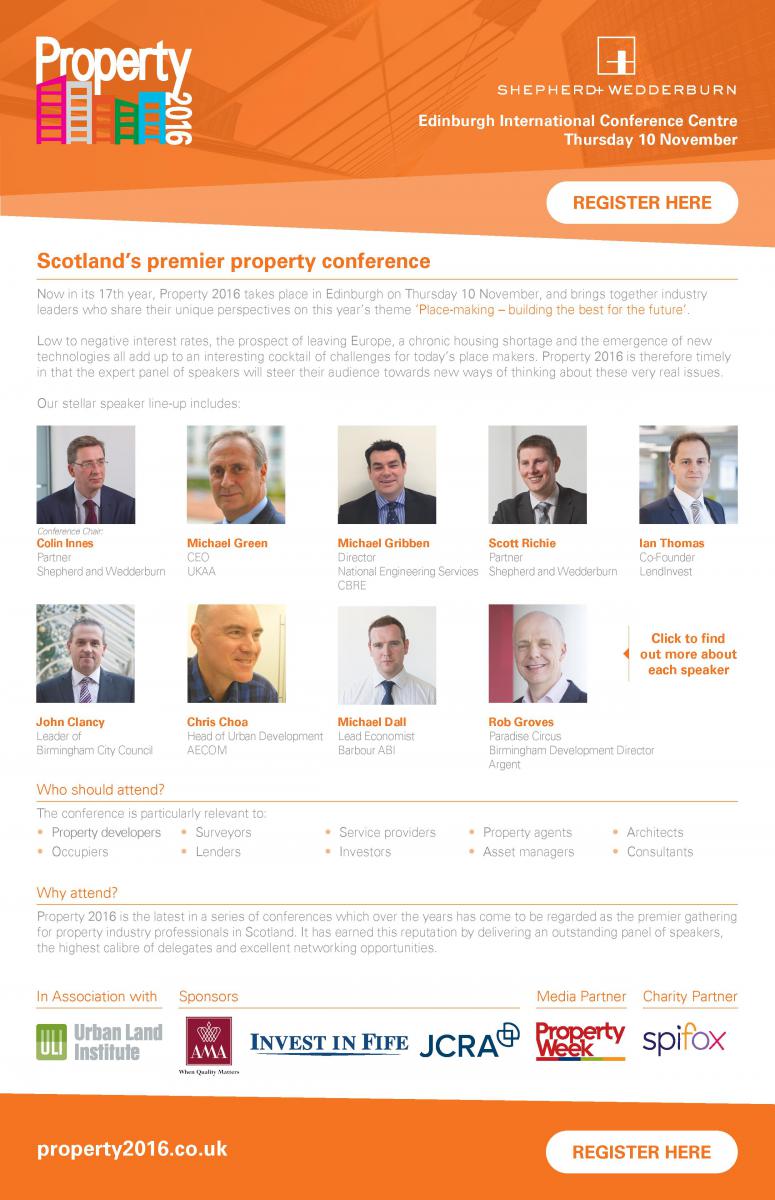 Property 2016 benefits from the support of the Urban Land Institute and media partner Property Week, as well as this year's sponsors AMA, Invest in Fife and J.C. Rathbone Associates Limited (JCRA).
Go to www.property2016.co.uk to find out more and to register for the event.