---
Property 2016 explores the future of the UK property industry
In a week when, across the Atlantic, the unexpected happened, it was reassuring to find that some certainties remain. In Edinburgh's City Centre it was business as usual, as leading players from the property industry gathered at Property 2016, an event now in its 17th year, which delivered as predicted a stellar speaker line up and much to discuss.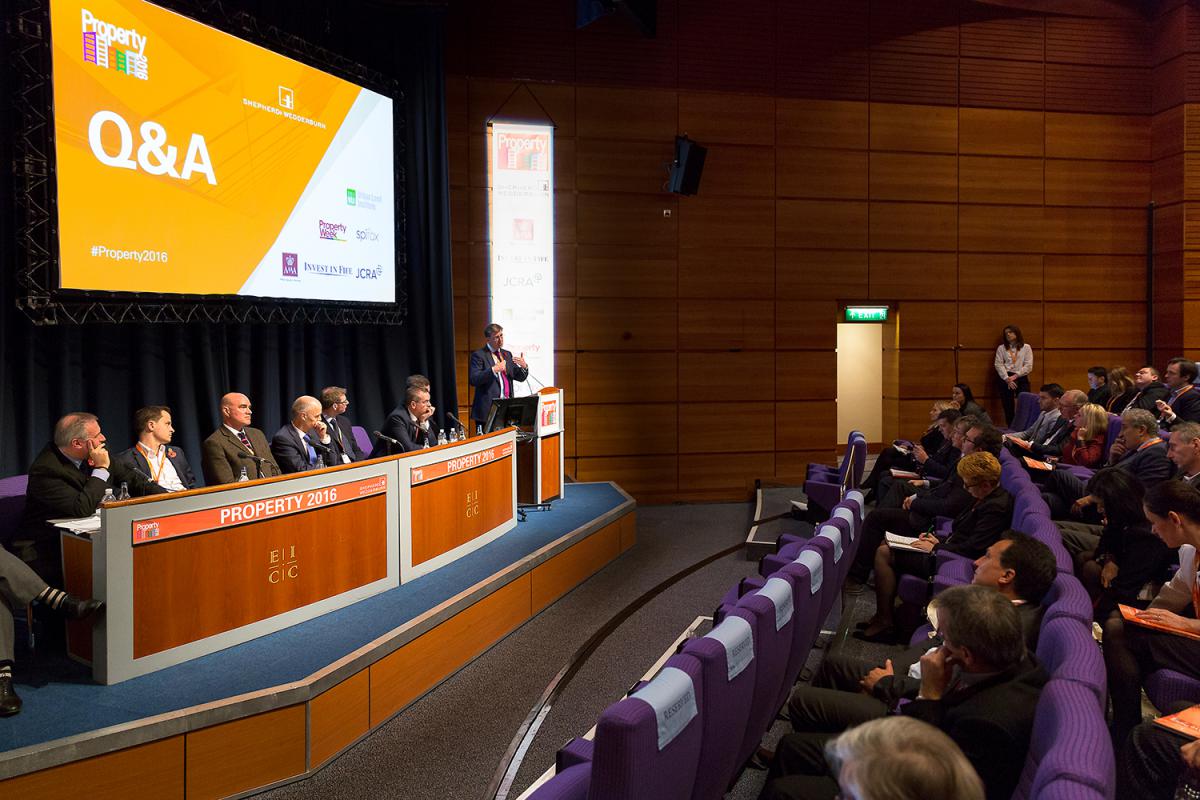 In his opening address, Shepherd and Wedderburn planning partner and conference chair, Colin Innes, light-heartedly surfaced a few of the opportunities arising from the Trump electoral victory that might be available to the enterprising lawyer. "Draining the swamp in Washington DC," for instance, "would undoubtedly require an environmental impact assessment". And on the question of 'building a wall' and 'who is going to pay for it', Innes suggested a public/private initiative as the way to go.
Sticking with a political undercurrent, lead economist at Barbour ABI, Michael Dall charted the health of the UK economy and the construction sector following the Brexit vote, concluding that post referendum data showed that the industry remains resilient. 
One of the areas experiencing a drop in activity has been in commercial office developments, particularly in London – no surprise given the decisions which are now pending regarding the locations of company headquarters. In Scotland, the value of contracts awarded show a year-on-year rise of 19.5%, a figure influenced to an extent by large infrastructure projects such as the £1bn Beatrice Offshore Wind Farm.
"Future trading arrangements will determine prospects for the industry, and the residential sector remains key." said Dall. "Growth in the construction sector is forecast for 2016, but the pace is slowing."
Michael Green, Chief Executive at United Kingdom Apartment Association (UKAA), and the leading figure in the build-to-rent sector in the UK, shared his vision about the opportunities for real estate development, investment and growth in the build-to-rent sector. The sector has 69,000 residential units either built, in construction or in planning – a fairly low volume when compared to the sector in the US – but one that offers tremendous scope for growth. 
Unashamedly, Green spoke about the 'fluffy stuff', a subject which he knows about more than most due to his many years in retail – formerly he was Chief Executive of the British Council of Shopping Centres (BCSC), Retail Executive at MEPC and spent 20 years of his career with Marks & Spencer. The 'fluffy stuff' he said, "…boiled down to introducing high customer service standards in the professional rental sector. Providing the right amenities," he added, "in the right location and with high levels of service was a sure way of ensuring success in the sector."
Much of Green's sentiment was shared by Michael Gribben, Director, National Engineering Services CBRE UK. He spoke about the issues that developers should think about to make their projects 'fit for the future'. For Gribben, this means improving the marketability of assets by building in choice and flexibility; outdoor space; wellness; technology; and the opportunity for casual collisions – in essence providing occupiers, both residential and commercial with what they valued. 
Both Gribben and fellow speaker, Scott Ritchie, Partner at Shepherd and Wedderburn drilled down into the detail and implications of the new energy efficiency regulations north and south of the Border, with Ritchie stressing that although the regime may be a little more lenient and relaxed in Scotland, the ripple effect from English legislation will inevitably mean that new occupiers and purchasers will expect and demand high energy efficiency ratings in commercial buildings in Scotland as a given.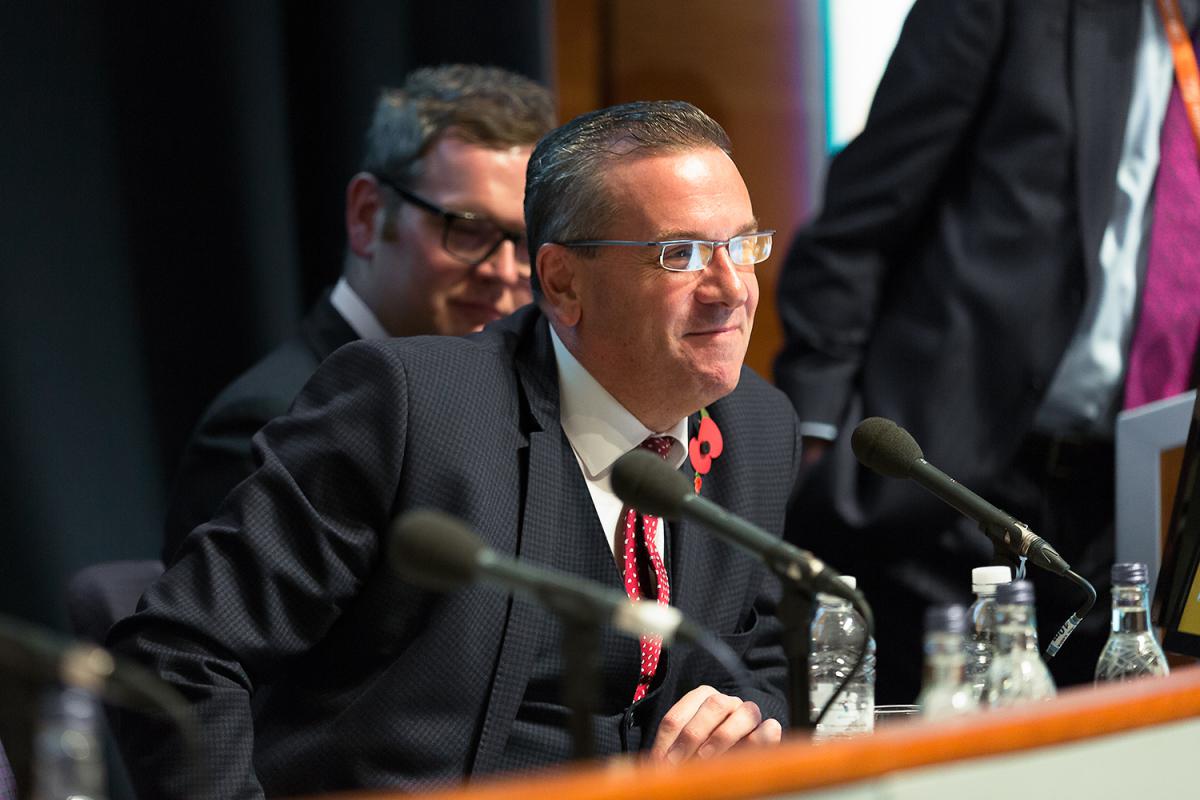 John Clancy, Leader of Birmingham City Council provided some thoughts on how cities can be developed to keep pace with the growing demand for affordable urban accommodation.
Clancy, who heads up a city of 1.1m people, believes that councils should move away from the position of seeing themselves as merely bit players in bringing investment into their cities and regions. He said that Birmingham City Council owns 40% of the city and 60% of developable land. So when he visits China, for instance, he goes not as a council official, but as an owner actively engaged in economic development.
He said that the population of Birmingham is growing at such a rate that scale and pace is required to meet the demand for the city's young and growing population (50% of whom are under 30 years of age). He mentioned the demise of SME building companies, and how councils could help such companies borrow in order to stimulate construction of the 90,000 new homes the city will require over the next 12 years. His own council for instance, has acted as buyer of last resort to such companies - the council in fact has never had to buy unsold units, such is the demand. 
On this last point, Ian Thomas, director and co-founder of Lendinvest, an alternative investment company, spoke about how his organisation was providing a pain free catalyst to greater investment in property development. Essential to this, he believes is the revitalisation of SME housebuilding community, previously a stalwart of the residential construction sector, whose numbers have plummeted in recent years. And because he sees the sector as the engine for putting more houses on British streets, his organisation provides a range of development loans as well as access to its own Property Development Academy which helps small scale developers access the skills, land and finance they need. 
Place-making – building the best for the future was the theme of the conference, and Rob Groves, Development Director, Argent, Paradise Birmingham provided tangible pictorial evidence of how to build, rebuild and truly transform our cities. He spoke about the transformation of Paradise Circus in the heart of Birmingham's city centre, a £500m development brought forward through a public/private partnership. On completion, it will comprise three new public squares, four new hotels, 1.74m sq ft of office space and 50,000 sq ft for leisure use.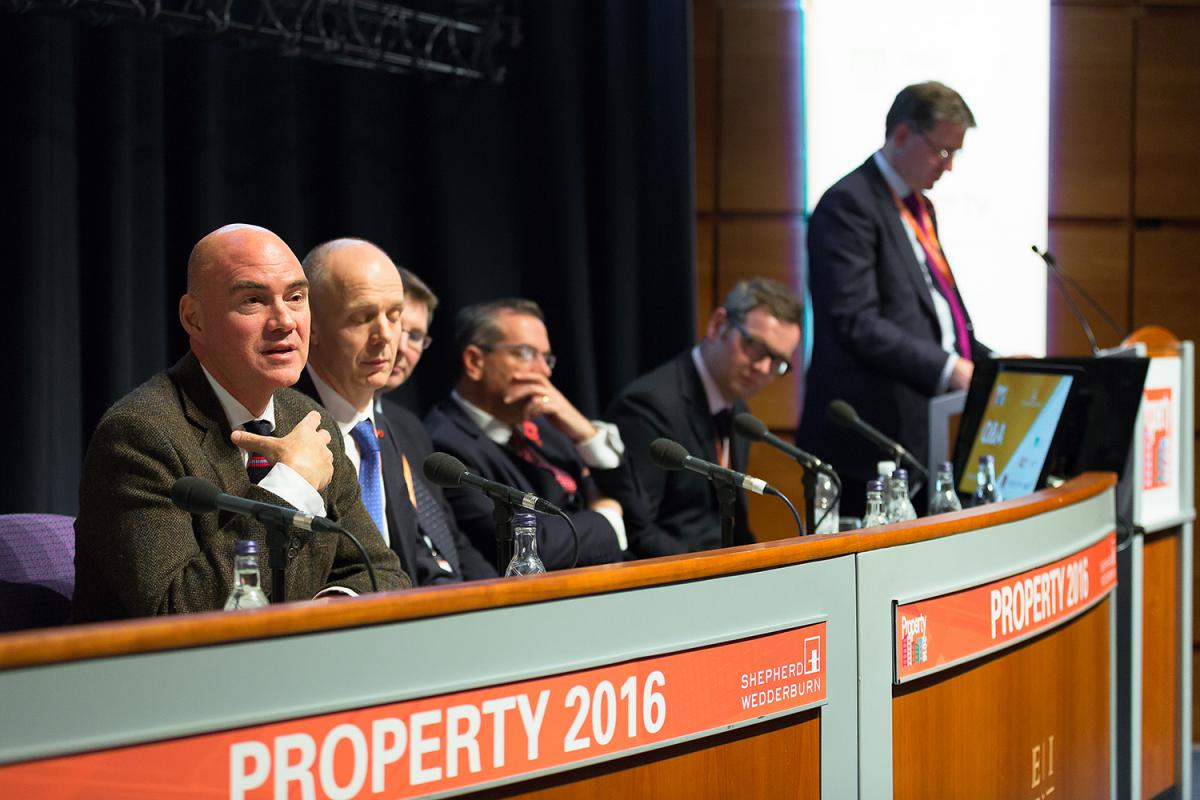 While Birmingham speeds towards an urban Paradise, Chris Choa, Head of Urban Development at AECOM provided the low-down on autonomous vehicles and what life will be like when we have widespread adoption of the technology, already available. Planners, developers and government need to start thinking about the opportunities and also the possible side effects they present. 
On the plus side, Choa said that the autonomous vehicle could also hold the key to massive land release and pointed to Edinburgh by way of example, a city which, although not huge, has 100ha given over to its 2.4m parking spaces (950,000 vehicles are registered in the city). 
Across Europe, at least 30% of city space is devoted to cars and parking, but around half of that space could eventually be freed up for housing and public spaces through wide-spread adoption of driverless cars. This is because they pack roads eight times more efficiently and can park much more tightly than conventional models.
About Property 2016
Property 2016 took place at the Edinburgh International Conference Centre on Thursday 10 November, and brought together industry leaders who shared their unique perspectives on this year's theme 'Place-making – building the best for the future'. Further information about the event can be found at www.property2016.co.uk.