As rural landowners will now be well aware, the Keeper of the Registers of Scotland has been invited by the Scottish Ministers to complete the Land Register of Scotland by 2024, with a target for all public land to be registered by 2019 and all remaining (private) land by 2024. One way that Registers of Scotland hope to achieve this goal is by encouraging landowners (particularly rural landowners) to undertake voluntary registration of their title in the Land Register.
Voluntary registration (being registration without a deed) is not a new mechanism but since the Land Registration etc. (Scotland) Act 2012 came into force in December 2014, it has become a much simpler and smoother process for landowners to undertake.
Given the Government interest in obtaining transparency in landownership in Scotland, registration in the Land Register is of particular importance. As the Land Register is a map based system (in contrast to the older Sasine Register which is deeds based), it is easier to search and identify owners of land.  
So how is voluntary registration faring, almost 2 years on? Read more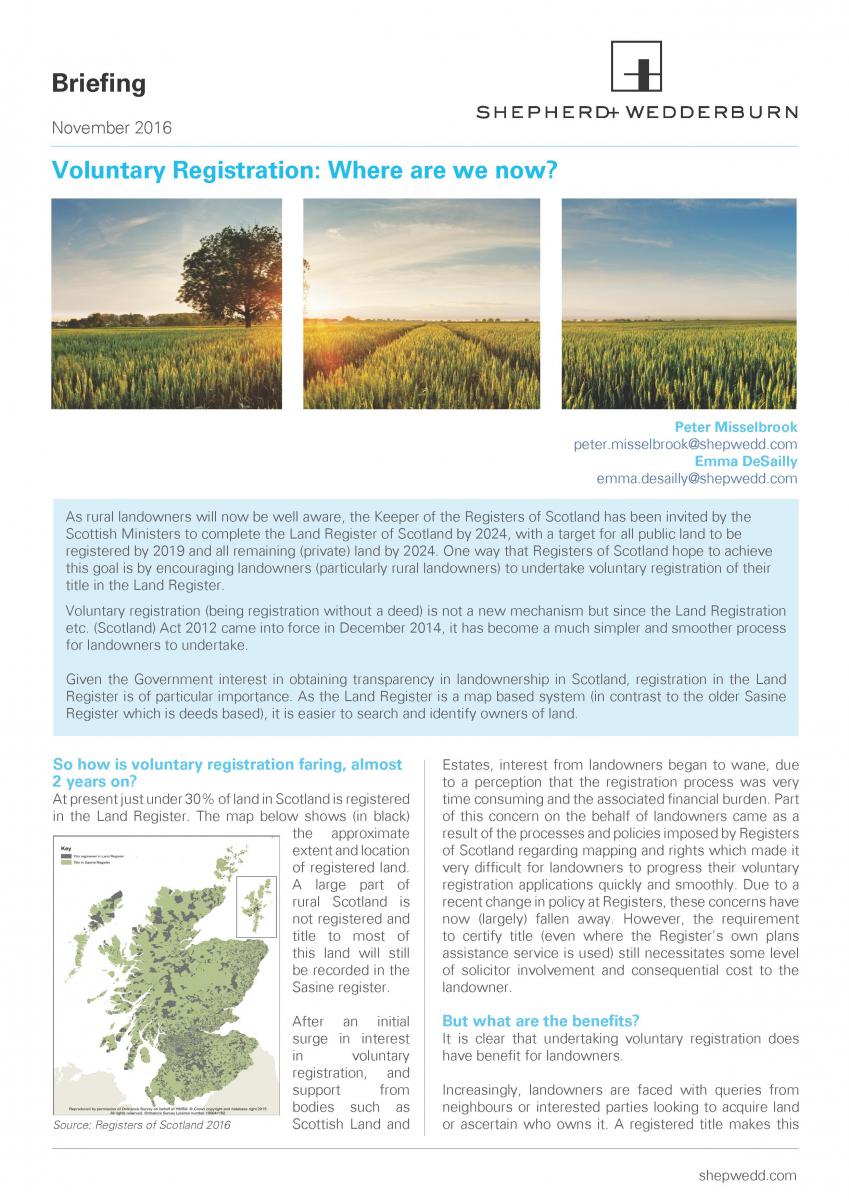 If you are considering voluntary registration and have initial queries, please do not hesitate to contact Emma De Sailly or another member of our rural team.  
Emma De Sailly is a solicitor in Shepherd and Wedderburn's rural property and business department and a member of the firm's voluntary registration team. She is a member of the Land Register Completion Stakeholder Engagement Forum at Registers of Scotland which meet to discuss the completion of the Register on a regular basis. Emma has acted for large estates and landowners in the voluntary registration of their properties throughout Scotland and provides advice on the requirements for voluntary registration to other solicitors and clients.