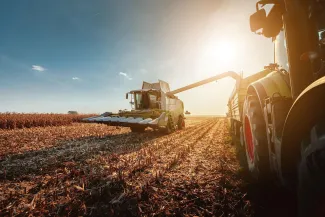 Health and safety issues in the agricultural and rural sector are a matter of significant and pressing concern – so much so, in fact, that the Chair of the Health and Safety Executive, Martin Temple, was recently prompted to set out his own views on the matter in an open letter. His decision to do so appears to have been motivated by the HSE's recent health and safety statistics, in which Mr Temple concluded that "once again, agriculture is shown to have one of the worst [fatality] rates across all sectors". In numerical terms, this is borne out by the HSE's 2018/19 figures, which show that 39 people were killed in agriculture, two of whom were children. Very poignantly, his point appears to have been sadly reinforced by the news that a farmer in Shropshire died following an accident with a combine harvester on 21 August.
Safety risks on farms are not new (and should not come as a surprise). But, whilst improvements continue to be made in the industry, so too are there continuing improvements in the sophistication of the technology used on farms. Whilst those improvements in technology will have safety benefits, the sophistication also gives rise to additional risks and the potential for injury and fatalities. Mr Temple noted the issue in particularly sharp terms since "there is no doubt farming is a complex working environment where large machinery is the norm and time is a precious commodity". However, Mr Temple also alluded to the fact that the farming industry will generally be, at its heart, a family environment. With that in mind, it really ought to be the case that operational decision-making on farms should put far more value on the health and safety of the farmers and their workers (particularly where there is a higher likelihood that those workers are family members).
The emphasis of the open letter was that farmers should not be lulled into a false sense of security or complacency, nor should they adopt an "it won't happen to me" mentality. Recent fatal incidents are factually diverse, ranging from items of clothing becoming entangled in unguarded machinery, to falls from height (in particular, from vehicles), and fatalities that involve farming vehicles.
Plainly, the emphasis really must be on the effective management of risk. Whilst the agricultural sector has many differences from other industry sectors, the nature of the accidents and fatalities themselves are not especially unique. There are many similarities between how a person comes to be injured on a farm and how they might become injured on a construction site. However, it would appear that lessons are not being learned in the same way in the agricultural sector as they are in other sectors of industry. There are also implications for insurance cover where risk has not been effectively managed.
Mr Temple's letter concluded with a plea that "everyone working in agriculture should think about the prevent word, listen to the help, and look out for the guidance which is available".
Mr Temple's letter is not an isolated example of HSE focusing on the rural sector. Recent action also includes a campaign of inspections targeted at farms and farmers. These inspections sought to focus on matters such as machinery and transport, livestock, falls from height and children. As for the latter, you need only look to earlier this year when a farming partnership in Devon was fined nearly £30,000 after a nine year old suffered a broken leg after a misadventure with an all-terrain vehicle.
Shepherd and Wedderburn's health and safety team is able to provide comprehensive advice on risk assessments and the prevention of incidents in the workplace, and to advise in relation to investigations and prosecutions. Please contact Head of Rural Property Hamish Lean, or Kevin Clancy in our health and safety team, for further information and advice.