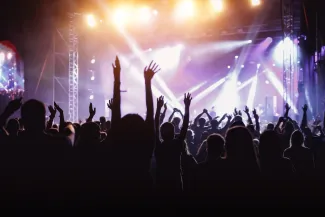 The dispute
British indie music group Easy Life, formed in 2017, have not been finding life so smooth with the news that easyGroup Ltd, owners of the easyJet brand name, have started legal proceedings against them. The band appears to have flown under the easy radar until about 2020, when they began promoting their "Life's a beach tour" with the poster below.
In their claim in the High Court, easyGroup have set out its case that the band were infringing the easyLife trademark as well as riding on the coat tails of the easyJet brand. They have accused Easy Life of taking unfair advantage of easyJet's reputation by deliberately attempting to create a link with them by using easyGroup's well-known orange stylisation and easyJet planes in the band's marketing to increase their sales.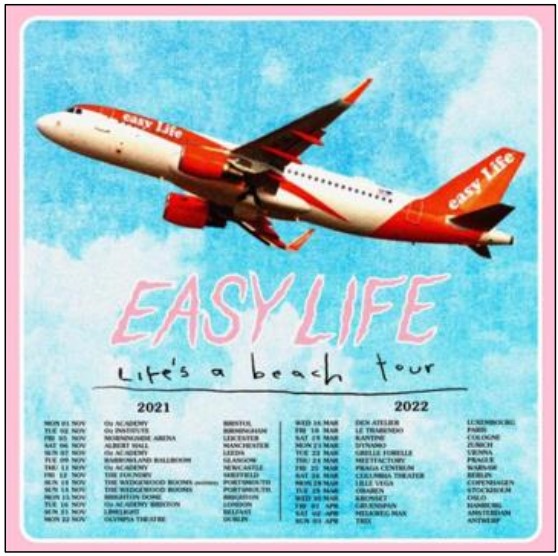 Who are easyGroup?
It's not easyJet who are suing the band but easyGroup, and easyGroup are no strangers to brand protection. EasyGroup owns the trademark for the word "easy". Their website includes a section exposing what they call "brand thieves" who have tried to profit from the "easy" name and reputation.
They charge trademark royalties to business partners – such as easyJet, easyHotel, and easyMobile – to use their brand conjoined with another word to form a sub-brand. Trademark royalties are payments made from the licensee (easyJet) to the licensor (easyGroup) in exchange for the rights to their trademark.
The dispute conclusion
Easy Life did not have a licence from easyGroup and so have decided against contesting the claim. In a statement on social media, the band said: "They're forcing us to change our name or take up a costly legal battle that we could never afford. Although we find the whole situation hilarious, we are virtually powerless against such a massive corporation." 
easyGroup take a different view. They say they are not attempting to stop people from using the word easy in its ordinary meaning. Rather, they are taking action to prevent the word easy being conjoined with another to generate sales and profit. They argue that the trademark "easy" is a brand that differentiates the business from competitors and so has significant value.
By wrongly creating a link with easyJet, easyGroup allege Easy Life stand to benefit from the vast brand recognition of the airline, and that benefit is unfair. It might be said that there is little prospect of confusion between the band and the airline, but this is not easyGroup's only concern. They also claim the band's behaviour damages the reputation of the "easy" brand. From their perspective, if they left what they believe to be infringement of their brand's trademark rights unchallenged, it could open the door for others to follow suit.
EasyGroup have prevailed before going to trial, but the dispute serves as a helpful reminder to businesses of all sizes to take care when establishing a new brand and to take steps to protect their intellectual property once the new brand is chosen.
Top tips to avoid trademark disputes
Do your research. Ensure your proposed trademark is not already registered or in use for similar products or services. Consider if a similar earlier trademark has a reputation in the UK and make sure your proposed trademark is unique. In other words, your trademark should be distinctive when applied to your goods or services.
Register your unique trademark. Having the benefit of a registered trademark makes it much easier to pursue a claim against a third party that you consider is infringing on your brand.
Take action. If you need advice on Intellectual Property protection - please get in touch with a member of our Intellectual Property team.
This article was co-authored by Andrew Johnston, trainee solicitor in our commercial disputes and regulation team.