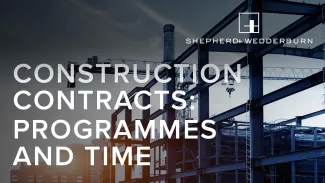 Below you will find our 2019 autumn construction webinar series in full. These three sessions provide an understanding of the key construction contracting aspects relating to payment, variations and time, and will focus on best practice and tips to avoid disputes. To discuss anything covered in these webinars in more detail, or for tailored advice for you and your organisation, contact our construction and special projects team today.
Webinar one: payment and valuations
In this first webinar, we focus on the payment process, looking at typical valuation and payment provisions, timings and steps required.
Webinar two: variation and compensation events
In this second webinar, we discuss variations and compensation events, looking at the process for changes and claims, particularly required notifications.
Webinar three: programmes and time
In this final webinar of the series, we focus on contractual programmes and time, looking at the process and management of programme updates and time claims.
To register for more upcoming events, seminar and webinars, visit our events page.