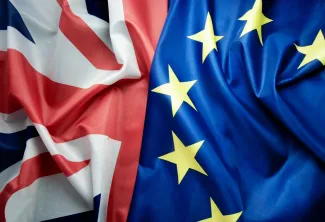 While the UK Government remain confident a 'no-deal' Brexit is unlikely, it will continue to issue briefing notes outlining what and who would be affected in a no deal scenario. 
The first 25 of an expected 84 technical notices, released in August by the Department for Exiting the European Union, included two briefing notes covering farming: 'farm payments if there is no Brexit deal' and 'receiving rural development funding if there is no Brexit deal'. 
Currently, financial support for farmers is available through the European Union's Common Agricultural Policy (CAP), divided into Pillar 1 and Pillar 2 payments. 
Pillar 1 payments are direct income support payments made to active farmers based on how much land they own. In order to qualify for these payments, farmers must meet set standards on environmental management, animal welfare and traceability. 
Pillar 2 payments support farmers and rural entrepreneurs who manage their land and businesses in ways that help promote sustainable management of natural resources, benefit the environment and support rural economies and communities, otherwise known as greening. 
CAP payments following a 'no deal' Brexit 
In the event of the UK and EU failing to agree a Brexit deal, there would be no immediate change for those currently receiving subsidy payments. The UK Government has committed to funding any remaining payments due under the CAP until the end of 2020. 
As part of this guarantee, the Department for Environment, Food and Rural Affairs (DEFRA) in England and its Scottish counterpart, the Scottish Government Agricultural and Rural Economy Directorate, can continue to allocate funding to new rural development projects after the UK has left the European Union until 2020. 
If the UK leaves the European Union with no Brexit deal in place the UK Government has committed to supporting any projects where funding has been secured through EU programmes for the whole of the project's life span by funding any remaining payments due to farmers, land managers or rural businesses. 
Until new domestic legislation is introduced, farmers who were previously claiming payments under Pillar 1 will have to continue to conform to the same standards as are currently in place, including on-site inspections. 
Farm support post-Brexit 
Once the UK has left the European Union, new legislation will be brought in to regulate agricultural policy by the governments in England, Wales, Scotland and Northern Ireland. In Scotland, consultations have already begun with a view to developing and implementing a new rural policy framework.
Up until 2022 – the expected end of this Parliament – the UK Government has also pledged to continue to provide the same financial support for farmers as is currently available under Pillar 1 and Pillar 2. 
With additional reporting by Sophie Dickson.