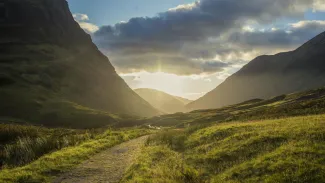 The National Council of Rural Advisers (NCRA) has released a consultation paper entitled A Rural Conversation: 'Together We Can, Together We Will.' Established at last year's Royal Highland Show, the NCRA's remit is to provide advice to the Scottish Government on Brexit's implications for Scotland and to recommend actions to ensure that the Scottish rural economy flourishes.
The consultation paper covers the three main themes identified by the NCRA's Rural Thinking workshops – vision, infrastructure and people. There are ten questions ranging across these themes seeking views on matters such as creating jobs, encouraging entrepreneurship, and recognising and representing the contribution of rural Scotland to the country.
In the paper, the NCRA states that rural Scotland presents a vast untapped economic opportunity, and notes the country's successes in environmental, social and economic terms.
The paper focuses on the ideas of sustainability and growth, and recognises the value of the country's natural assets and people.
The challenges of a perceived reliance on EU workers, infrastructure inequalities between rural and urban areas, and the current system of funding programmes for rural businesses are also touched on, hopefully encouraging participants to share their suggestions for improvement.
Alison Milne, Co-chair of the NCRA has encouraged everyone in Scotland to participate to ensure that the NCRA can benefit from as many views as possible. This offers urban and rural dwellers alike a chance to make their voices heard and contribute to the success of Scotland's rural communities. The consultation is open until 24 July 2018, and can be accessed here.