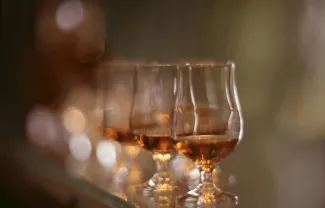 As the evenings grow darker, so do the clouds concerning the impact of a possible no-deal Brexit on the food and drink sector.
While the political jousting continues, industry leaders continue to lobby for clarity, certainty and early decisions to enable them to undertake detailed contingency planning for 1 January 2021, both for any trade deal that may be agreed between the UK and EU and for the possibility of no deal. No deal of course means that Britain would move onto World Trade Organisation non-preferential terms, with potentially significant increases in tariffs applied to good exported from and into the UK. If there is a deal, the hope is that in all respects it would be tariff-free.
There are many areas of concern, including:
Logistics preparation for vehicle movements, transit procedures and associated paperwork. The road haulage industry predicts significant disruption at border control points, which will be of particular concern with regard to fresh produce and livestock/products of animal origin, all of which require pre-clearance. There are serious questions over whether the limited number of (largely French) EU border control points will have the capacity to handle the anticipated volumes of traffic.
 
Loss of third country equivalence for plant varieties, seed potatoes and others if there is no deal. Perversely, however, the reverse does not apply, so EU varieties of plants and potato products will be able to be freely imported.
 
Organic food will potentially also lose equivalence if the pan-EU certification scheme for organic produce is not replicated.
 
Food standards and regulatory: the concerns about a possible lowering of standards and the opening of our borders to cheaper, and arguably less safe, imports from the United States has been well documented and hotly contested. The Agriculture Bill resumes on 4 November its stormy passage back to the Commons from the House of Lords. The Lords had proposed an amendment requiring imported food products to meet or exceed Britain's standards, including on animal welfare and food safety. In a positive development on 31 October, Liz Truss, the International Trade Secretary, announced the expansion of the role of the Trade and Agriculture Commission (TAC), led by Tim Smith, former Chief Executive of the Food Standards Agency,  to monitor the terms of each new free trade agreement as it emerges. This is widely believed to be a significant commitment to ensuring food standards remain part of primary legislation to be addressed, debated and only amended in accordance with Parliamentary approval, as opposed to being dealt with under delegated (secondary) legislation with significantly less scrutiny. While it is a significant improvement, the new TAC's recommendations will only be advisory and the government is not obliged to implement them. It remains to be seen whether the extended powers of the TAC will be a sufficient bulwark against the powerful American industrial farming lobby and its determination to access British markets as part of the price of a broader trade deal.
 
The EU has again warned that if regulatory standards in the UK are lowered after Brexit then the extent of access for British farmers and producers to the EU 27 market may be in jeopardy. The EU level playing field is one Brussels will not lightly give up.
There is still much to play for and potentially a significant price to be paid if a deal is not achieved.
George Frier is Head of Food & Drink at Shepherd and Wedderburn LLP. For further information on our Brexit advisory services please see here.