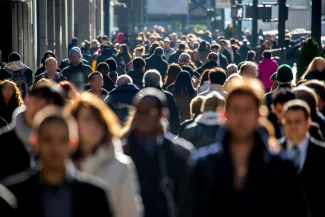 Research by the UK Government has predicted that, by the mid-2030s, half of all adults in the UK will be over 50 years of age. Confronted with an ageing population, the economy is going to have a growing reliance on older employees in the workplace.
In recognition of this, the UK Government included 'meeting the needs of an ageing society' as one of four 'Grand Challenges' first set by the Department for Business, Energy and Industrial Strategy in 2017.
As the proportion of older workers increases, employers need to ensure that the skills of older people are retained in order to safeguard the future of the economy. One barrier to the retention of older workers has been issues with ageism, or age discrimination, in the workplace.
Age is one of the nine protected characteristics defined under the Equality Act, meaning that workers are protected by law from discrimination, harassment or victimisation because they are 'younger' or 'older' than another employee.
The new guidance produced by the Advisory, Conciliation and Arbitration Service (Acas), provides helpful tips on how to prevent age discrimination happening in the workplace, looking at risk areas where age discrimination is more likely to occur, and setting out how it should be dealt with if it does happen.
Acas has also put together a factsheet examining common myths that can lead to age discrimination issues. For example:
Myth: Some employers think older staff are more likely to be off work ill.
Fact: Research shows sickness absence rates are similar across all age groups.
The new guidance and detailed factsheets are available on the Acas website.
With additional reporting by Rebecca Nicholson.