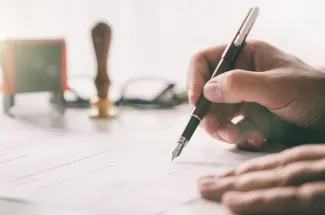 In a recent case involving a college (London St Andrews College v Secretary of State for the Home Department [2018] EWCA Civ 2496 read here) two appeal judges in England reinforced the point that you can never be too careful when it comes to your sponsorship licence. The judgement is of relevance to all businesses which hold a sponsor licence. It serves as a warning to sponsors that to keep their licence they need to comply at all times with all of their sponsor duties and appreciate in the words of the Court that sponsorship "is a fragile gift" which requires "constant vigilance".
St Andrews College had gone to court to challenge the loss of their licence. The licence had been revoked due to the sponsor compliance team's finding that the college had breached their sponsor duties, specifically they had assigned a Confirmation of Assignation of Studies (CAS) in a situation where they had not demonstrated that the students involved had made sufficient academic progress.
Sponsorship system is based on trust
The opening passage of the judgment is of importance to all sponsors and potential sponsors and is worth quoting in full:-
The starting point for this analysis is to emphasise that the watchword for the sponsorship system is trust. As the authorities have repeatedly said, the efficacy of the sponsorship system depends fundamentally on trust. This fundamental point is too often overlooked, or ignored, by claimants seeking to challenge the suspension or revocation of their sponsor licence. The SSHD must be able to trust those to whom Tier 4 (or Tier 2) sponsorship status is accorded. This is because those with a sponsor licence are given the power to assign CAS (or Certificate of Sponsorship) which can then be used by migrants to obtain visas and leave to enter or remain. However, with power comes responsibility. A key responsibility is to identify which of the migrants applying for student visas have both the ability and intention to study, and which are merely trying to use study in the UK as an excuse to come to, live or work in the UK.
The Court roundly rejected the college's argument that the Home Office was wrong to impose broader duties in terms of the licence and found that there was an express duty before granting a Certificate of Acceptance of Studies (CAS) to thoroughly assess each students "intention and ability" to undertake the course in question.   
This case re-iterates the difficulty that organisations will have in trying to challenge sponsor licence revocation decisions. The key for anyone holding a sponsor licence is simple, compliance has to be a priority. We are here to help businesses comply with their sponsor duties, and we offer a monthly maintenance service designed to help sponsors maintain their licence. We also provide ad hoc advice and training to HR departments to ensure key personnel are properly trained in all issues relating to sponsor licence decisions.