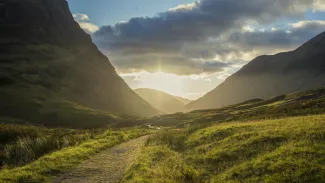 To coincide with its 250th anniversary, Shepherd and Wedderburn commissioned the University of Strathclyde's Fraser of Allander Institute to consider the future challenges and, more importantly, opportunities for Scotland's economy. 
Its initial report, Scotland in 2050: Realising Our Global Potential, sets the scene for a conversation with business and industry bodies to inform the sometimes-difficult policy decisions that will need to be made at Westminster and Holyrood to best position our economy to compete in a dynamic and rapidly-evolving global economy.
The immediate challenges facing the agricultural and rural sector in Scotland revolve around the uncertainties relating to Brexit.
Those uncertainties include the future of agricultural support payments; potential labour shortages caused by the ending of free movement of labour; lack of access to existing European markets; and the threat of imports from global food producers producing food to lower standards than those that exist in the UK. 
Taken together, these factors lead to the inescapable conclusion agricultural businesses will need to become more keenly focused on markets, their own competitiveness and on resource efficiency in order to survive and thrive in the years to come. 
One of the means of achieving this is for farmers to become an integral part of the wider food and drink sector in Scotland, which already enjoys a very strong global reputation and makes a substantial contribution to the Scottish economy. 
However, at present, only about 45% of our agricultural output is processed in Scotland, yet our food and drink sector obtained twice as many inputs from the rest of the UK.  
To adapt and capitalise, farmers will need to work in partnership with retailers, food service companies, processors and manufacturers to add value to their commodities and to ensure more of these commodities are sourced from Scotland. 
Farmers will also need to be savvier about meeting the demands of the market and identifying future market trends; get much closer to customers and the wider agri-food supply chain; and be prepared not only to meet, but also to exceed, consumers' expectations about quality and sustainability.
A key component of that process will be for farmers to adopt innovative practices to improve the profitability of their businesses. This will inevitably involve the adoption of new technologies and new methods of working. 
One way in which this can be achieved is with the help of Scotland's academic research institutes. Scotland's Universities outperform the rest of the UK in world-leading and internationally excellent research in agricultural, veterinary and food science.
An effective exchange of knowledge between farmers and researchers will ensure academic research is closely aligned with industry priorities and be easily accessible to farmers to enable them to harness it practically and profitably.
Turning to the Fraser of Allander Institute's research, we would invite those in the agricultural sector to turn their attention to the following questions and join the conversation through the feedback form on our website. All contributions will be shared with the Fraser of Allander Institute's researchers on an unattributable basis, unless you wish otherwise.
• How can Scotland expand its export base (what has been your experience and what lessons can we learn from other countries/sectors)?
• How can Scotland access new export markets (what has been your experience and what lessons can we learn from other sectors/organisations)?
• How could Scotland better harness technology to deliver economic growth and boost exports?
• What should Scotland be known for, and on which exports should Scotland be focusing?
• Which policy initiatives are working and which are not?
• What policy initiatives would you like to see from the UK or Scottish Government?
• What preparations has your organisation made for Brexit?
The difficulties are formidable but they must be met, overcome and transformed into opportunities.  Failure to do so puts the future of Scottish agriculture as we know it at risk. I look forward to hearing your views.