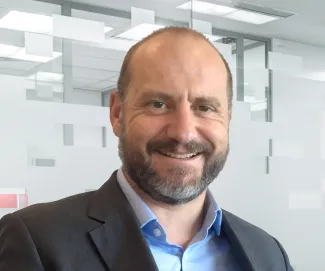 The Fraser of Allander Report 'Scotland in 2050: Realising our global potential', published in September 2018, assesses Scotland's current economic position and analyses the issues and major global trends Scotland will need to address in order to drive forward economic growth and build a more prosperous nation in the future.
The importance of 'connectivity'
One major factor, critical to Scotland's future, is investment and improvement in our digital infrastructure. As identified in the Fraser of Allander Report, a major challenge facing Scotland's economy is weak productivity, particularly in comparison to the top performing Organisation for Economic Co-operation and Development (OECD) countries. 
Improving digital infrastructure will be key to addressing some of these challenges. 
The Scottish Government believes improving our digital infrastructure will bring about significant public sector savings and efficiencies, which will also transpose to the private sector.
Access to networks across Scotland 
The Scottish Government has acknowledged that improvement in this area and enhanced 'connectivity' "will support future innovation in the digital economy and ensure Scotland's business base can grow and remain competitive in the global digital environment".  
However, research from the Federation of Small Businesses (FSB) in Scotland found "a lack of digital infrastructure [has been] holding back development in rural Scotland despite its population growing at a faster rate than in urban areas". In comparison to England and Northern Ireland, where only 3% of the countries' geographic areas have no 4G services, the figure in Scotland currently stands at 25% and compared with 11% of Wales. 
The FSB research found the number of enterprises in Scotland's rural areas increased by 8% in the period 2010 to 2017 compared with a 16% increase in urban areas over the same period. Rural businesses now generate approximately £15 billion a year in turnover and sustain "more than two thirds of rural private sector jobs". As the rural sector plays such a significant role in Scotland's economy, it is essential remote and rural communities and areas are not left behind in this new digital age.
How can we ensure Scotland is at the heart of development in this arena?
It is widely recognised that collective engagement between policy-makers, industry participants and other stakeholders will be required to promote the long-term growth of the digital economy, break down barriers to the expansion of digital infrastructure, and to encourage new investment and innovation.
Policy makers
Telecoms are a matter reserved to the UK Government therefore decisions in this area are made in London. Notwithstanding this, the UK Government has pledged that all residential and business premises will have a legal right to high-speed broadband by 2020. This will clearly require engagement from private sector organisations to help deliver the infrastructure required to facilitate this goal. 
Local authorities
Engagement from public authorities, particularly planning divisions, is also crucial in delivering such large-scale projects, and planning authorities will likely play a critical role in the expansion of digital infrastructure so must be adequately resourced to enable them to formulate local policy (if necessary), and deal with their regulatory duties in determining applications for consent or permission relating to such projects.
Private companies
Private businesses such as CityFibre are already taking the initiative to roll out the wholesale fibre infrastructure required to deliver 'Gigabit Cities'. CityFibre has partnered with Vodafone to expand its fibre infrastructure to homes in Edinburgh (expected to complete in 2019) although a number of businesses have had access to the network since November 2015.
In addition to Edinburgh, so far, CityFibre has either developed or is planning to develop its network in Aberdeen, Ayr, Dundee, Glasgow and Stirling partnering with organisations such as Commsworld, and CGI. 
BT Openreach has also invested significantly in Scotland's digital access rollout alongside Scottish and UK Government investment and European Union funding. A 2018 Report published by Audit Scotland recognised that BT's £412 million project with Digital Scotland has brought fibre broadband to an additional 900,000 premises.
The Report stated that without such investment, "only around two-thirds of premises in Scotland would have access".  Further investment such as this is critical in order to provide the infrastructure required to support a growing economy. 
Competition in the marketplace is also essential in driving forward growth and encouraging innovation. Competition has been the pre-eminent driver of enhanced service and coverage. 
What is critical, is finding the right balance between state and private funding and what level of regulatory intervention there should be in relation to funded access services. With the increasing rollout of infrastructure required to facilitate services, competition between operators is only set to increase. 
The convergence of fixed and mobile networks is an example of new strategies operators are developing to realise the potential of national fibre and 4G network assets. In May of this year, BT and EE announced plans to converge their fibre broadband and 4G networks to create a single connection combining the available speeds of both networks. 
In the UK, the only mobile networks available are those operated by EE, Three, O2 and Vodafone – all other mobile providers piggyback on these networks. Industry players will need to be mindful of the likely market changes coming with the advent of 5G and with is the increasing potential likelihood of convergence.
5G
According to the UK Government's 5G strategy, and statements from network operators, UK-wide roll out of 5G is not set to launch until late 2019 or 2020 (with widespread network availability open from 2022). However, operators such as EE have indicated a live UK network could be available from late 2019, with the operator already having switched on a number of trial sites in London. Vodafone has also indicated some remote areas in England could receive 5G coverage in 2019. 
One of the main barriers to 5G at present though is the availability of spectrum, and it cannot be forgotten that 5G necessitates an even more robust fixed backhaul network to get data from one point another through the distribution network.  
However, the development of 5G mobile telecoms is essential to supporting new technologies and to cope with growing demand for faster internet speeds. 
Once 5G is here, it is predicted to bring about a significant increase in speeds – for example it will take between four and 40 seconds (at speeds of 1-10Gbps) to download a full HD film using a 5G network in comparison to more than seven minutes using a 4G network (at a speed of up to 100Mbps).  This will likely impact markedly on productivity and hopefully encourage growth across the Scottish economy. The wider use case for 5G (v4G) is however not entirely clear to date.
Overall, engagement is required from many parties, both in the public and private sector, to drive economic growth through the development of our digital infrastructure. Competition is also extremely important to encourage innovation and it is largely due to competition in the markets that we have seen such development in this area to date. 
Scotland's economy is well placed to adapt to the global challenges it faces, but given its unique geographical diversity and areas of industry, it is essential the more rural parts of the country are not left behind as the infrastructure in urban areas is further developed and expanded.
Questions to consider:
1. What should policy makers do to increase roll-out across Scotland?
2. Are the present plans enough to increase competition in the market and take-up of services?
3. How can public authorities better support private organisations in delivering the infrastructure required? 
4. What does the advent of 5G mean for Scotland and how can we drive take-up of this service?
 

With additional reporting by Emma Read