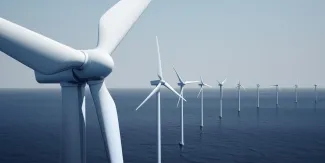 Scotland has established itself as a global market leader in the clean energy sector.
Many of the advancements in offshore wind, floating wind and tidal energy markets – from concept to commercial viability – were made in this country, and Scotland is now the envy of the world, given its knowledge base, its academic prowess and the abundance of opportunities to harness the elements, both on land and around our shores.
We have, over the years, achieved a number of notable successes in taking industry and academic concepts through to commercialisation, and the sector has demonstrated its resilience in adapting and innovating to change, at times in the face of adversity.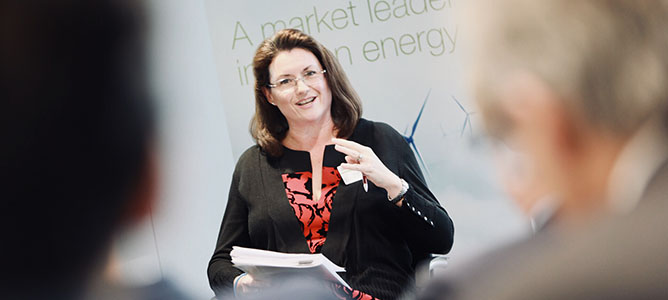 Clare Foster, speaking to Green Investment Group stakeholders in November 2018
What has also emerged over these formative years is the sheer grit and determination of the sector and the will to make Scotland a global player in the development of the energy sources of the future.
For investors, Scotland was seen as an attractive location to back renewable energy projects and developments, backed by a fiscal regime designed not only to encourage inward investment but also to provide long-term security on those investments.
As a result, the development pipeline expanded rapidly, resulting in a boom in renewable energy projects across Scotland. We are rightly proud of our position at the cutting edge of the sector, in the development and deployment of new energy technologies, and we have as a country demonstrated that clean energy is the only logical way forward in powering our growing populations and increasingly tech-driven urban expansion. 
However, in recent times the renewable energy sector has faced a number of challenges. The UK Government's drive to reduce renewable energy subsidies has had a significant negative impact, and the recent statistics are alarming: in January 2018, it was announced investment in 'clean energy' had fallen by 56% in 2017, driven essentially by government policy changes for the sector. 
The fact that investors are reacting this way is not a great surprise, though continued investment is vital if Scotland is to have any hope of meeting the ambitious short, medium and long-term carbon reduction targets set out by Scottish Government, and in the new, more ambitious targets now being considered by the UK Government.
It could be argued the UK Government has created a favourable tax regime in the UK Continental Shelf for the oil and gas industries, and with sufficient will, could deliver a similar regime for the renewable energy sectors. 
In onshore wind, project costs have reduced significantly in the last few years, and there is a great deal of work being put in by developers in moving towards a subsidy-free environment: a corporate Purchase Power Agreements market is now beginning to emerge. 
However in the meantime, onshore wind's out-and-out exclusion from subsidies has slowed development in that market, making it a much tougher environment in which to raise finance, and inevitably deal flow has contracted for new projects (albeit the secondary M&A market seems to be holding up). 
 
The story is similar for offshore wind. Growth in this sub-sector has been remarkable over the last decade, and there is a correlation with project costs having reduced exponentially, but it remains critical that Scotland and its stakeholders maintain a viable project pipeline to exploit the remaining opportunities, which, in turn, will boost developer and supply chain confidence and investment.  
It must also be remembered the capital expenditure (capex) in these projects is enormous, and developers are taking on significant risk, so the reduction or removal of subsidy is a legitimate concern, for both developers and investors, who may start to question whether Scotland, and in fact the UK, is the right jurisdiction in which to invest their money. 
From an urban and city perspective, the imperative to decarbonise is immediate, though we are yet to see the seismic shift needed to undertake the large-scale projects that will provide cleaner, warmer and more energy efficient cities for the growing populations living in them. Most recent estimates from the Office of National Statistics suggest the UK population will reach 71 million by 2030, rising to 77 million by 2050, and most will be living in and around cities. 
Where Scotland goes from here is the key question. From a policy perspective there is plenty for those in the sector to aim for: the Scottish Energy Strategy and the Energy Efficient Scotland: route map, both set out ambitious targets for production and a warmer, greener, more energy efficient country. Both articulate the Scottish Government's various clean energy aspirations, though both are policy documents and, as ever, the question remains: how does this policy evolve and translate into a development pipeline?
It is also fair to say that recent political and economic instability has resulted in a more uncertain outlook, so we must turn to our strengths to determine in which direction we as a clean energy sector ought to go next. 
Scotland is a country rich in natural resources and renowned for innovation, with many of our universities and industry-focused research and incubator centres considered 'centres of excellence' in clean energy technology development. We have the talent and the resources… and we now have two key challenges:
1.     to make Scotland as attractive a destination as possible for clean energy inward investment; and
2.     to position our country as a global leader for clean energy and increase export of our technology, our expertise and our ability to develop projects from an idea into a vibrant and ever-developing market.
The challenges are formidable and our aspirations for the clean energy sector could be criticised for being overly ambitious, but, as a nation, Scotland is known for rising to the challenge.  
More importantly, we owe it to future generations to try.