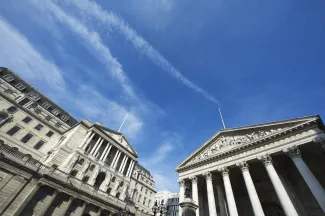 Versions of the following article appeared in CA magazine and Scottish Business Insider.
In 1527, two inhabitants of the Royal Burgh of Haddington lent 1800 merks to the Abbey of Melrose, to be repaid by the Abbey to their bankers, in what is understood to be the first recorded reference to bankers in Scotland. Fast-forward almost 500 years to the present day and modern banking would be unrecognisable to the burgesses of Haddington.
Even reflecting on the past 50 years we have witnessed remarkable changes to the way in which we interact with banks – with the advent of automated teller machines (ATMs) in the 1970s, the roll-out of telephone banking in the 1980s and then online banking in the 1990s and, in the last decade, the arrival of mobile banking. The introduction of Open Banking this year promises to be the latest revolution in our relationship with banks.
The Open Banking reforms initiated by the Competition and Markets Authority (CMA) require the UK's nine largest banks to develop a secure way for customers to share their banking information with third party providers (TPPs). It means that banks have to relinquish their monopoly on customers' account data and open up their payments infrastructure so that third party providers can develop payment and information solutions that integrate directly with customers' bank accounts.
The types of third party providers with which customers may wish to share their banking information are broad and varied, but to give one example, price comparison websites may now start offering to provide more personalised quotes by retrieving a customer's recent income and expenditure history from their bank. Customers will be able to choose which third party providers they share their banking information with, the services that their information is to be used for and for how long the third party provider can access that information. A customer's explicit consent must be given before such information can be shared.
This information sharing by banks is made possible by the development of application programme interfaces (APIs) with common standards on data-formatting and security. In simple terms, APIs allow different software – or apps – to talk to each other in the same language.
Open Banking is complemented by new European legislation – the Second Payment Services Directive (PSD2) – which introduced a revised regulatory framework for banks and other payment service providers in January of this year. PSD2 aims to open up the internal market for payment services to disruptive technologies in order to encourage greater competition. Two of the key innovations which PSD2 supports are account information services and payment initiation services, both of which enable customers to manage their accounts through a third party provider instead of via their bank's usual channels.
Account information service providers (AISPs) provide online services that retrieve and display balance and transaction information for accounts held by a customer with different banks. Payment initiation service providers (PISPs) offer apps that can initiate a direct transfer of funds from a customer's bank account, providing an alternative means to paying online using a credit or debit card or through a bank's own online platform.
The challenge for banks is how to respond to the Open Banking revolution. In recent years, many of them have been pursuing a relationship banking model where business customers have a single point of contact with the bank. From the bank's perspective, it strengthens customer loyalty and enhances profitability through cross-selling products and services. And it can work well for customers too. A trusted relationship manager with a deep understanding of a customer's business is better able to serve their needs by offering tailored financial solutions that help the business prosper.
But the new freedom for customers to give third party providers access to their bank account information disrupts that model, so banks will have to work harder to preserve customer loyalty in the future. The challenge laid down by Open Banking is to look to the future and innovate. You can expect to see banks increasingly partnering with the Fintech industry to develop new ways of delivering their products and services with better functionality. In this new era of Open Banking, collaboration is the name of the game.