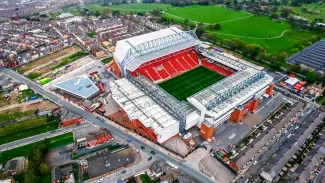 At the time of writing, Liverpool FC are 6 points ahead of their nearest rival in the English Premier League, having scored 25 goals in the opening 11 games of the 2019/20 season. Last week, the club's significant success in breaking down defences on the field was replicated in the court room, as Liverpool emerged victorious in a legal battle with its current kit supplier, New Balance.
The contract between Liverpool and New Balance, which is due to expire in 2020, entitles New Balance to renew its sponsorship of Liverpool merchandise if it matches any offer made by a competitor. Liverpool had been arguing that a five-year contract offered by Nike, reported to be worth £30m per year and involve a commitment to sell licensed products in at least 6,000 stores worldwide, could not be matched by New Balance.
In deciding in favour of Liverpool in the High Court, Justice Teare indicated that Nike's offer to use three non-football global superstars of the calibre of tennis legend Serena Williams, basketball player LeBron James and musician Drake could not be matched by New Balance.
Matching clauses are an important tool in commercial contracts commonly used to protect the interests of an incumbent commercial partner. They prevent a rights holder engaging a new partner unless the incumbent is unwilling or unable to meet the superior offer of the competitor. The decision in this recent case is interesting in that it shows that the price that a commercial partner is prepared to pay is not the only factor that needs to be considered when determining whether an offer has in fact been "matched".
This is by no means the first sporting case that demonstrates the challenges encountered in the practical application of matching rights. In 2012, Rory McIlroy and Nike found themselves in a dispute with Oakley, which was claiming a right of first refusal under its then existing endorsement contract with McIlroy, but only in respect of certain aspects of the Nike offer because Oakley had a more restrictive product offering. Last year, Justice Teare found in favour of Sports Direct in a dispute with Rangers FC, deciding that an incumbent commercial partner may have multiple matching rights which entitle that partner to continue to match the improved offers of an incoming competitor.
In the current case, New Balance's immediate application for permission to appeal was refused by Justice Teare, meaning the only route available to the sportswear company to have the decision overturned was to write directly to the Court of Appeal for approval to appeal. Unlike some of Liverpool's competitors this season, New Balance seem up for the fight and have now filed the necessary paperwork. Whether the Court of Appeal is prepared to step in to perform the role of TMO to potentially prevent Liverpool claiming all 3 points remains to be seen.
The effectiveness of matching clauses in commercial contracts will largely depend on how they are drafted. Should you require any support or advice in this regard, please get in touch with Alison Rochester, Roddy Forgie or your usual Shepherd and Wedderburn contact.