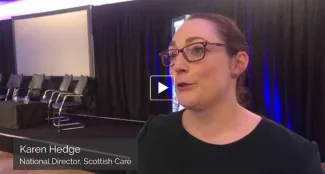 This article was written by Karen Hedge, National Director of Scottish Care and a contributor to the Fraser of Allander Institute's Scotland in 2050 research project, commissioned by Shepherd and Wedderburn to mark the firm's 250th anniversary.
The time has come to recognise the all-too-often latent potential of our older citizens and combat the negative image portrayed of our ageing community. It is our destiny to grow older, so why are we not recognising the potential of our ageing population?
Almost every day we hear about the 'demographic pressures' facing Scotland, as if this is some sort of politically correct way to say that old people are an expense rather than an asset. A Scottish Government research report, published in 2010, projected that by 2033, the number of people in Scotland over 60 will increase by 50%, although healthy life expectancy does not follow the exact same curve. While this raises questions of the impact upon public expenditure, it is possible to flip the rhetoric around and turn this challenge into an opportunity.
Over the past 100 years, the age at which someone receives a Nobel Prize in the fields of science or technology has been steadily rising. We should embrace the movement #agepride and value the wisdom of our older generation because to ignore its current contribution, and its potential contribution, is to miss a valuable opportunity to harness its potential, including in driving economic growth.
Many people who have retired and given up 'the day job' are embarking on their real development and showing what lifelong learning really means.
The 'University of the Third Age' is booming, and a growing number of older people are volunteering their time (making a positive contribution to local communities and saving the public purse significant sums); pursuing new careers, learning new skills or further developing existing ones and harnessing their experience through consultancy or non-executive director roles or building new businesses. 
It is also worth noting that social care is currently a net contributor to Scotland's economy to the tune of some £3.4 billion – more than agriculture and forestry and fishing – and with an ageing population there is potential for this net contribution to increase. 
Uniquely, independent care provision, which delivers the significant majority of care across Scotland (86% of care homes and 55% of care at home hours), is sufficiently small and innovative to be flexible and expedient in prototyping and implementation. Combine this with Scotland's strength in technology and artificial intelligence, and there is real opportunity to become global leaders in enabling people to remain independent and hence to contribute for longer should they so wish, by designing, creating, implementing and even exporting the right models, products and services.
Scottish Care has been working with the School of Innovation and Design at the Glasgow School of Art and others to assess what that future could look like. The work uses 'appreciative inquiry' (focusing attention on possibilities and solutions rather than on what has gone wrong) and 'future-orientated design thinking' (studying long-term changes in surroundings to forecast citizens' future needs). This future is absolutely an enabling one, using technology and the internet of things (IoT), but explicitly implemented within an ethical framework of human rights. New roles for the care industry have been proposed, such as Care Technologists to manage tech and Care Navigators to analyse data and ensure that social care provision is adapted accordingly. 
We can already do so much more using the technology we have to hand, and now providers are collaborating with industry and academia to design for the future. As a country, we are working to populate and optimise our datasets to maximise preventative intervention. We are also building systems and products to revolutionise the sector, changing the way we perceive social care and offering people greater dignity.
Last year TechCare, Scottish Care's inaugural event for technology in social care, led to increased collaboration in the sector towards 'interoperability' (devising abilities for different data systems, devices and software to connect and operate collectively). There is much happening in this space, but still much more to be done, and Scotland has the ingredients to realise such an ambition.
The world is waiting; it's time to grow older and wiser.
Karen Hedge, National Director, Scottish Care
CareTech2 will be held at Strathclyde University Technology and Innovation Centre on 23 August.