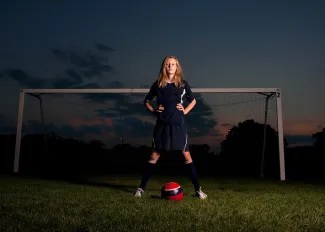 The Scotland Women's National Football Team has crashed out of the World Cup after a heartbreaking exit to Argentina, conceding three goals in the last 16 minutes. As the first Scotland squad to compete at a World Cup in 21 years, is it time women in sport get the recognition, financial or otherwise, they deserve? What does the future hold for the commercial attraction of women's football and women in sport generally?
In September 2018, the women's national squad was funded by the Scottish Government to be able to train full-time ahead of the FIFA 2019 World Cup in France. Shelley Kerr, Scotland's head coach, noted: "We want to professionalise and grow the game, and success would change the whole landscape of the women's game in Scotland." Although the FIFA tournament might not have brought the team the success they had hoped, it has certainly got people talking. Inevitably, the women's national teams throughout the UK have begun to alter perceptions and raise their profile. The question is, should UK sports governing bodies consider managing male and female teams more equally to reflect this?
FIFA awards prize money to the national federations but it is up to them to choose how much to give to the players and how much to invest in other areas of the game. The Dutch Football Association, for instance, came to an agreement that will see commercial compensation for female players grow, aiming to match those of their male counterparts between 2021 and 2023. In Norway, men and women have started to receive the same pay for representing their country in footballing events. The Scottish Football Association chief executive, Ian Maxwell, says that all funds generated by Scotland at the Women's World Cup will be reinvested in the women's game. But is this enough?
With many major women's sporting events on the horizon, including the Women's Ashes in July and the Women's British Open in August, there has never been a better time to talk about what governing bodies can do to support women in sport. Despite the Scotland team not progressing, England will continue to represent the UK after storming into tomorrow's semi-final against the US with a record-breaking viewership of 7.6 million in the quarter-final against Norway. Well marketed and well run women's competitions like the World Cup are clearly attracting big audiences – with big commercial value to follow. Great Britain will have a women's football team at the 2020 Olympics drawing on players from England, Scotland, Wales and Northern Ireland and so support for the game should continue to grow. This is a great opportunity that UK governing bodies need not only to grasp but be seen to be grasping. Women's football is on a journey and UK sports governing bodies must move with it.
With additional reporting by Emma Davidson.