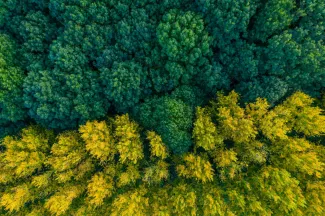 Scotland's natural environment offers an abundance of opportunities for carbon capture, the process of capturing and storing carbon dioxide before it is released into the atmosphere. One of the most popular methods is through investment in forestry.
Tree stocks can capture around 700 to 800 tonnes of carbon per hectare, depending on the species and the length of crop rotation. 
The value of the carbon emissions captured, or saved, by the woodland can be capitalised as carbon credits, which can then be sold to individuals, businesses or organisations seeking to offset emissions. Carbon credits are verified to the standard set by the Woodland Carbon Code, which is backed by the UK Government, to allow them to be traded. 
A popular option for those wishing to offset emissions is to fund the creation of a new woodland, without acquiring ownership of the woodland itself, in exchange for carbon credits. Transactions such as this are typically agreed under a contract known as a Carbon Agreement, in which the purchaser buys carbon credits from a landowner, albeit no physical tangible goods are exchanged. The usual means of ensuring the landowner delivers the scheme, and in turn the carbon credits, is by way of the landowner granting a standard security in favour of the purchaser.
Carbon Agreements can be a useful tool for landowners considering how to make the most of commercial opportunities on their property and to realise investment. 
The Scottish Government has pledged to facilitate a 50% increase in the size of the woodland carbon market by 2025, which will contribute significantly to the anticipated growth in the sector.
Should you wish to explore the possibilities further, please contact Hamish Lean, Head of Rural Property and Business, at hamish.lean@shepwedd.com, or Stuart Greenwood, Partner in our rural property and infrastructure team, at stuart.greenwood@shepwedd.com.
A version of this article first appeared in LandBusiness magazine.