---
Royal Highland Show Round Up
Shepherd and Wedderburn were delighted to attend The Royal Highland Show this year, Scotland's premier agricultural event showcasing the best of Scottish farming and rural life. Once again, we had a full house on the Friday at our breakfast briefing, co-hosted with Bidwells. 
The theme of this year's briefing was 'Agriculture and Forestry: Growing together', discussing the challenges farmers, landowners and land managers face with the growth of the renewable energy sector, carbon sequestration, biodiversity requirements, climate change and food security. The discussion centred around how those different challenges could be reconciled while at the same time the country worked towards implementing Scotland's forestry strategy.  
We were joined by Rachael Hamilton, shadow cabinet secretary for Rural Affairs and Islands, who recognised the challenges and pressures placed on farmers and landowners in the current climate. Rachel discussed plans to develop a policy platform, which includes establishing a rural arm of the Scottish Investment Bank, introducing gene editing to further the production of top-quality Scottish produce and bringing forward a rural theft bill to tackle the growing issue of rural crime, to name a few. It was highlighted that a coherent land use strategy is required to protect Scotland's land requiring input from all sectors. 
Stuart Greenwood, Partner in our Rural Property and Business team, gave a legal insight into the tensions and various pinch points between forestry and agriculture, in particular, where agricultural land is sold for forestry with the possibility of leaseback agreements. Stuart also discussed forestry schemes where there is an availability of carbon credits. Ultimately, it was highlighted that the current regulatory regime was not created with forestry schemes in mind nor the opportunities that are currently present, thus making the integration of these sectors seem more difficult. 
Ralph Peters, Managing Partner at Bidwells, delivered an informative speech calling for integrated land management that allows for economically viable farming to sit alongside forestry. Ralph outlined the difficulties that upland farmers currently face with regards to the lack of agricultural subsidies and support, which is challenged by the increase in land value driven by forestry schemes. Moreover, it was highlighted that the biggest conflict agriculture and forestry face is the lack of integrated thinking on policy, and ultimately the sectors need to engage in honest discussion to foster a mutually beneficial relationship. 
Robert Guest, managing director of the Foresight Group, outlined the natural capital approach to forestry and forestation with the aim of delivering national planting targets in a responsible and sustainable way. Robert highlighted the issues in relation to timber security, which is often overlooked, and provided an insight into achieving the government's carbon draw down goals by providing more sustainable timber, reducing our reliance on imports, whilst simultaneously delivering environmental and societal benefits from a job creation perspective. 
Lastly, Martin Kennedy, President of the National Farmers Union of Scotland, delivered an impassioned speech highlighting farming and crofting as the rural lifeline of Scotland. Biodiversity and food security were vitally important and should not be lost sight of when considering how best to utilise Scotland's enriched carbon stocks.
In terms of future policy, Martin spoke of the need to liaise with the industry when initiating change. 
The briefing was concluded with a Q&A session when many of these concerns were vigorously debated.
Thank you to all who joined us for what was a great event. We look forward to seeing you in 2024.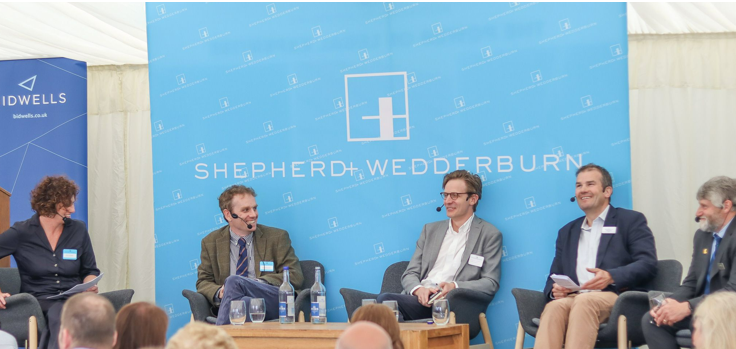 Picture: From left to right - Petra Grunenberg, Stuart Greenwood, Robert Guest, Ralph Peters and Martin Kennedy,