---
Shepherd and Wedderburn helping Scotland's next generation of innovators
Leading UK law firm, Shepherd and Wedderburn is delighted to support 'VentureJam', an initiative launched by Young Scot and Glasgow City of Science to encourage the city's youth to develop and promote new ideas in the  green and digital spaces.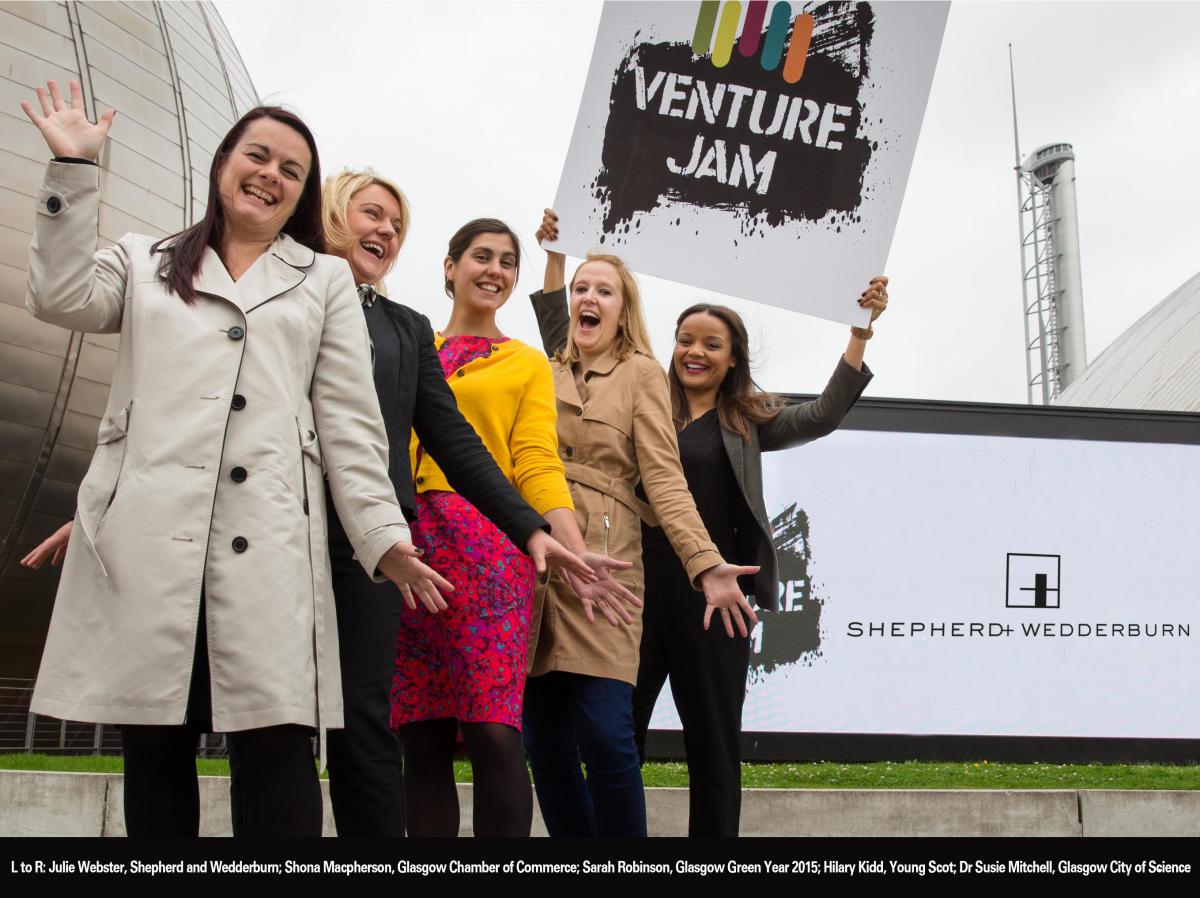 VentureJam comprises a weekend workshop to create and develop ideas that will challenge the way people think about the impact that climate change has on their city and also on them individually.  These ideas could be for a digital app, product, art installation—in fact anything that will make people rethink their attitude to climate change and help promote sustainability.
During the jam, Young Scot, together with a team of inspirational mentors made up of creative gurus, technologists, business advisors and environmental experts, will guide young people between the ages of 16-24, who live, work or study in Glasgow and surrounding areas, through the creative process, and help those producing the best ideas to take them forward to Venturefest Scotland 2015 on 9th September, where they will pitch their propositions to investors in the mode of television's  Dragon's Den.
George Frier, a  Corporate Partner at Shepherd and Wedderburn said: " The firm has a strong tradition and considerable experience in advising and helping innovative companies realise their objectives, and it works closely with leading universities such as Edinburgh and Strathclyde in commercialising technology. We are really looking forward to getting involved with Venturejam and hope that Shepherd and Wedderburn mentors will be able to nurture the talent of tomorrow and help the ideas of the participants in VentureJam to take off".
The event takes place on 8 and 9 August at Rookie Oven, Glasgow. Shepherd and Wedderburn is joined by other VentureJam supporters: Glasgow Chamber of Commerce, Glasgow City Council, Glasgow's Green Year 2015, Scottish Qualification Authority (SQA), Scottish Informatics & Computer Science Alliance (SICSA) and  with kind support from CoderDojo Scotland, Glasgow Science Centre, Rookie Oven, Biffa and Cryptic. 
Dr Susie Mitchell, who is Programme Director, Glasgow City of Science, said: "Glasgow City of Science is passionate about delivering exciting skills development opportunities like VentureJam that give young people, irrespective of their background, a chance to work with inspirational experts to develop new ideas that look to address major societal challenges. It's great to have the support of Shepherd and Wedderburn. Venturejam participants will benefit from the firm's vast experience and know how in renewable energy and technology." 
Notes 
Shepherd and Wedderburn is a leading UK law firm with offices in Edinburgh, Glasgow, Aberdeen and London delivering comprehensive multi-jurisdictional legal advice across every business sector. While it counts FTSE 100 blue-chips, AIM companies, large SMEs, and public service organisations among its clients, the firm has an impressive track record in advising some of Scotland's fastest growing businesses, including FanDuel, TV Squared and DeltaDNA.
Young Scot is the national youth information and citizenship charity which provides young people, aged 11-26, with a mixture of information, ideas and incentives to help them become confident, informed and active citizens.
Venturefest Scotland 2015: an innovation summit for Scotland  

is part of the Innovate UK Venturefest network, will take place on 9th September 2015, Glasgow Science Centre.

Glasgow City of Science is a pioneering partnership engaging an eclectic mix of around 80 organisations (including academia, government, arts and culture, and business) which aims to build on, and profile, Glasgow and the West of Scotland's offer as a world-class region of science, culture and place through a range of inspirational partnership programmes.