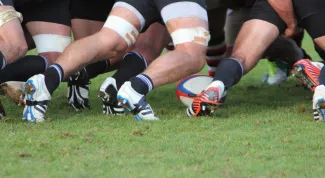 "I am not a number, I am a free man", screamed Patrick McGoohan throughout the 1960s in The Prisoner – thereby missing out on significant additional merchandising revenue. No modern sportsman would make that mistake.
Today is World Intellectual Property Day, and the theme is intellectual property in the business of sport. Headlines this week explore the possibility of Celtic retiring the No.5 shirt following the death of the legendary Billy McNeill earlier in the week,
Last weekend's MotoGP in Texas celebrated the former world champion Nicky Hayden, who died in 2017, by formally retiring his racing number 69. Finishing second in the race on Sunday, Valentino Rossi has arguably had the greatest success in marketing a number, his "46" (formerly his father's racing number). The yellow "46" is now a substantial brand in itself.
Since 2014, formula 1 changed regulations to allow drivers to retain their racing numbers and exploit them as part of their overall brand. As yet no driver has achieved Rossi "46" status but the "44" of Lewis Hamilton is starting to gain traction.
In trade mark terms, a number alone is difficult to protect unless the owner can show substantial public recognition of the link between the number and the competitor. This leads to highly stylised designs for marketable numbers being the basis of their protection strategy. The marketing teams are becoming ever more innovative.
Did Cantona's "10" achieve the reach of Barry Sheene's lucky "7"? Are footballers restricted by the limited individual design options on a team shirt? Will other sports start to support the exploitation of numbers alone?
Ultimately, when the £22 price of a Lewis Hamilton "44" t-shirt only buys you underwear with the Valentino Rossi "46" design, in sports, the numbers are all about the numbers.