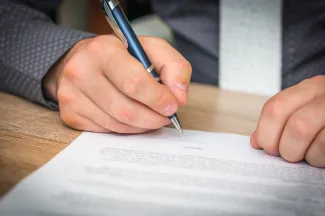 Before William Johnston died, he signed a Partnership Variation Agreement. However, his family claimed that he did not have capacity to sign it and are calling for an introduction of "Willie's Law". The law would require a medical professional to co-sign legal documents of vulnerable people to prove they had legal capacity. But what is the current position in relation to legal capacity in Scotland and what would change if "Willie's Law" was enacted?
In Scotland, adults are presumed to have capacity to enter into legal documents and there is currently no general legal obligation to have a person assessed before they sign a legal document. However, a notable exception to this general rule is in relation to Powers of Attorney ("POA"), where pursuant to the Adults with Incapacity (Scotland) Act 2000 ("2000 Act"), a solicitor; practising member of the Faculty of Advocates, or a UK medical doctor must certify a person's capacity when that person wishes to put a POA in place.  
Indeed, if a POA had been in place in this particular case, the outcome could potentially have been avoided. This acts as another important reminder of the potential benefits of putting a POA in place as early as possible in life. If an adult loses the capacity to manage their property, finances, or personal welfare when they do not have a POA in place, the only way to acquire legal authority to manage the individual's affairs is to apply for a guardianship or intervention order pursuant to the 2000 Act.
That said and more generally, where a solicitor is involved in a legal transaction and pursuant to the Law Society of Scotland's practice rules, they are duty bound to satisfy themselves that their client has capacity; by considering the nature of the specific instructions and their client's ability to understand those instructions and their consequences.
If the solicitor is in any doubt as to their client's capacity, including if they consider their client may be vulnerable, then they should obtain consent from the client to seek an independent opinion from a medical practitioner, psychologist or other relevant expert. There is however currently no legal requirement for a solicitor to obtain independent medical advice when assessing their client's capacity, or indeed for anyone else to do so when a person is entering into a legal document without assistance from a solicitor.
As we understand it, "Willie's Law" proposes that a medical professional would have to co-sign all legal documents of a vulnerable person to show they have legal capacity, regardless of whether or not a solicitor was involved. This would be a seismic shift in the law.  
Ultimately, it is a legal question as to whether or not a person has capacity. The presumption of legal capacity can always be rebutted, with the onus of proof lying with the objecting party. Whether a solicitor or medical professional has been involved or not, it is extremely common for disputes about capacity to arise after the fact. We most commonly see this in relation to testamentary documents, where a party attempts to challenge the validity of a will after the death. Where the presumption is challenged, it is for a court to decide if the person had capacity. However, there is no express definition of capacity in Scots law, it is a common law principle which has developed over many years, such that a wide variety of factors will be considered by the court in determining a person's capacity, taking into account all of the relevant evidence, including from any legal or medical professionals involved.  
As such, even with "Willie's Law", disputes would likely still commonly arise, particularly where the medical professional did not know the person well.  
We regularly advise clients in relation to questions of capacity, including seeking to challenge legal documents that have allegedly been entered into when the signatory had no capacity. For further information on POA, see our recent article here and please get in touch with Thomas McFarlane or Stephanie Hepburn if you require any advice or assistance.