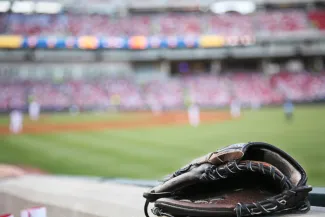 US Major League Baseball (MLB) said last week that it was suspending its involvement in the upcoming Venezuelan professional baseball season while it awaits direction from the US government on whether participation by MLB-affiliated players is permitted under the terms of the US sanctions imposed on the Venezuelan government.
Earlier this month, the Trump Administration froze Venezuelan state assets and threatened to impose sanctions on any company that does business with the South American nation's government, which is accused of human rights violations and has overseen an economic collapse.
Instructions from Washington could prevent any Venezuelans who play for MLB's 30 teams (or numerous minor league affiliates) from returning to their homeland to play for one of eight professional Venezuelan teams during the winter season, which begins in October.
While direction from the US government is awaited, the MLB's decision demonstrates the pervasive nature of sanctions. It also raises interesting questions about how the UK sanctions regime could impact sports closer to home, particularly after Brexit.
The UK Government has stated that it will look to carry over all EU sanctions at the time of its departure from the EU but, given that the UK has historically been the driving force behind security policy and sanctions at an EU level, it may not be long before the UK's domestic approach starts to diverge from that of its neighbours.
The impact of Brexit on sport in this country will depend on the relationship that the UK negotiates with other countries. Accordingly, the exact details of how Brexit will play out in the sporting arena are not entirely predictable, a subject we have written about in further detail here. What is clear, however, is that the domestic sanctions regime will inform how accessible the UK sports market is for players and clubs with connections to countries whose government is subject to restrictive measures imposed by the UK.
If you would like advice about trading arrangements between the UK and other countries, or how to protect your business during the Brexit process, please contact Alison Rochester, Roddy Forgie or your usual Shepherd and Wedderburn contact.