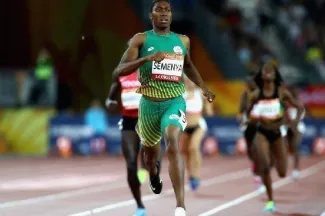 Caster Semenya, the 28-year-old South African middle-distance runner and 800 metres Olympic champion, has been competing on the world stage for almost a decade.
Recently, however, she been embroiled in a legal dispute with the International Association of Athletics Federation (IAAF) regarding controversial regulations targeting women with 'Difference of Sexual Development' (DSD). The intention of the regulations is to prevent women with high levels of testosterone from participating in certain gender-affected sports unless they consent to taking hormone-suppressing medication.
Semenya did not take part in the World Athletics Championships in autumn 2019. However, she has been vocal in the past about her refusal to comply with the regulations, stating: "No woman should be subjected to these rules. I thought hard about not running the 800 metres in solidarity unless all women can run free. But I will run now to show the IAAF that they cannot drug us."
Women with hyperandrogenism in sports has been a matter of contention for many years. Semenya is not the first athlete to fight for her right to compete, nor is she the first to face harsh scrutiny and disparaging comments as a result of her failure to conform.
In an attempt to defend the regulations in a recent interview with Sports Magazine, IAAF treasurer José Maria Odriozola went as far as to describe Semenya as "biologically a man". Semenya is a cisgender woman – identifying with her gender assigned at birth – and she identifies as such.   
The IAAF maintains that it does not wish to discriminate against women with DSD. It claims the regulations are necessary in order to level the playing field and ensure that women with lower testosterone levels are not pushed out of the top rankings in their chosen sports.
The Court of Arbitration for Sports (CAS), based in Switzerland, heard Semenya's case in March 2019. The CAS sided with the IAAF, acknowledging that the regulations were discriminatory but finding them "reasonable and necessary" to "preserve the integrity of women's sports".
The trajectory of the case going forward is uncertain. Semenya is set to appeal the decision, and since the CAS sits in Lausanne and is governed by Swiss Law, it will be the Federal Supreme Court of Switzerland that will hear her appeal.
Initially, the Supreme Court granted Semenya temporary suspension of the IAAF's regulations to allow her to carry on competing. However, this suspension was later revoked. As such, it is impossible to predict what the outcome of the appeal will be and what will come thereafter.
Should her appeal before the Supreme Court in Switzerland fail, Semenya could take her case all the way to the European Court of Human Rights in Strasbourg.
Semenya has announced plans to make her football debut in 2020 after joining JVW FC, a women's team in South Africa. She has stated no human being will ever stop her from running – it remains to be seen if this statement will hold true.