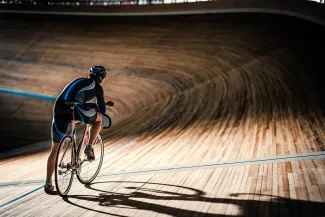 As regular as the sporting championships, so seemingly are the complaints about sports governing bodies and their attempts to stifle innovative new competitions through regulatory control.
Yesterday's complaint by Velon about the activities of world cycling organisation Union Cycliste Internationale (UCI) brought back memories not only of the European Commission's 2017 finding against the International Skating Union,  but also of the Belgian competition authority's investigation into the Federation Equestre Internationale (FEI) and the Italian competition authority's investigation into the Federazione Italian Sport Equestri. And those are only the ones that sprang immediately to mind.
Velon (which is the business representing 11 major cycling teams including Team Ineos, Trek Segafredo, Deceuninck-Quick Step and Lotto Soudal amongst others, and so represents much of the elite of world cycling) has complained that UCI's implementation of existing UCI regulations and its attempt to introduce new regulations has favoured its own business interests to Velon and the team's detriment.  Velon had introduced the concept of team v team Hammer races. The UCI had ruled that they could not be called a "Series" under UCI regulations. It has also complained about new technical regulations and the fact that the UCI failed to engage with it in constructive dialogue for a year, and there are no doubt other allegations in the full complaint.
As has long been clear, sporting rules that "concern the organisation and proper conduct of competitive sport" remain subject to the rules of European Union law and in particular competition rules. Governing bodies need to be clear that, when setting eligibility rules or technical rules, these rules do not have the object or indeed the effect of stifling competition to events organised by the governing body itself. The International Skating Union (ISU) case is a clear example. The effect of the ISU's eligibility rules was a lifetime ban for athletes or officials who participated in an event that was not sanctioned by a member or the ISU itself. The threat of a lifetime ban (which was achieved as there was no ability to apply for reinstatement) meant that skaters were not willing to participate in non-ISU events. Therefore, not only did the skaters themselves lose the opportunity to earn significant new income but also the events were unable to take place without athletes or officials. Whilst the ISU had argued its rules were proportionate, the Commission found that they were not.
The new Velon complaint represents not only a major challenge to UCI but a timely reminder  to sports governing bodies that they need to carefully consider the application of competition law rules when developing rules around eligibility, technical equipment etc.  If you would like to learn more about this, please do not hesitate to contact Gordon Moir, Paul Carlyle or Annemaree McDonough.
With additional reporting by Annemaree McDonough